City of Brantford takes 6th place in ParticipACTION's Community Better Challenge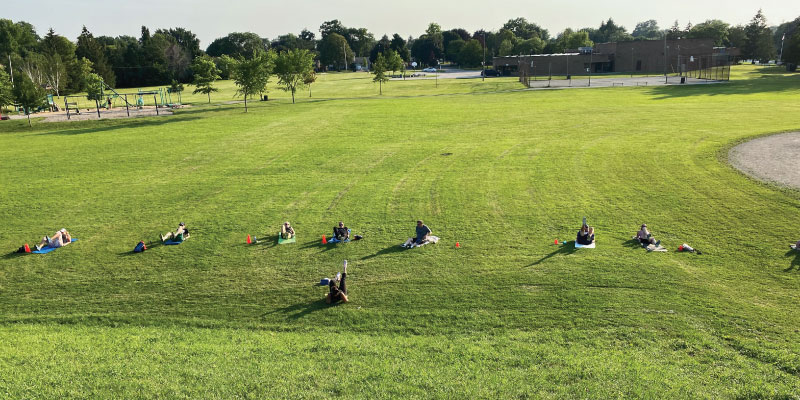 BRANTFORD, ON – The results are in for ParticipACTION's Community Better Challenge and after tracking 3.5 million active minutes, the City of Brantford placed 6th for Ontario and 33rd in Canada. The annual challenge encourages individuals, families, neighbourhoods and organizations to get moving and track their physical activity minutes during the month of June.
Residents participated in free activities including fitness classes in parks, hiking, biking, golf, gardening, and more. Over 1,700 communities across the nation engaged hundreds of thousands of Canadians and tracked nearly 400 million minutes of physical activity.
"I am so impressed and proud of our community's efforts in this challenge," says City of Brantford Fitness Supervisor, Katie MacDonald. "Thanks to our community's many outdoor recreational areas and activities, as well as the efforts of so many great community partners, we were able to engage participants in over 1,300 activities. It was a beacon of light for the community as we emerged from a challenging winter, and we are grateful for ParticipACTION's support."
The City's success is attributed to the vast community participation and logging of group and individual activity minutes through the ParticipACTION's app. The City would like to thank all those who participated and the organizations and partners that hosted free fitness activities, including Community Living Brant, Equal Ground Community Gardens, Wilfrid Laurier University Brantford Campus, Neighbourhood Associations and Hubs, Woodview Mental Health and Autism Services, as well as the City's Children's Services and Wayne Gretzky Sports Centre staff.
To learn more about the Community Better Challenge, please visit ParticipACTION.com.
- 30 -
Media Contact:
Sharon Sayles | Communications Specialist, Communications and Community Engagement
City of Brantford | 519-757-2840 | ssayles@brantford.ca
Kelly Page | Communications Specialist, Communications and Community Engagement
City of Brantford | 226-388-0150 | kpage@brantford.ca
The City of Brantford Newsroom
Subscribe to News Alerts | City of Brantford Website | Privacy Policy
© City of Brantford, 100 Wellington Square Brantford
Subscribe to this Page