City of Brantford to host seniors workshops aimed at newcomers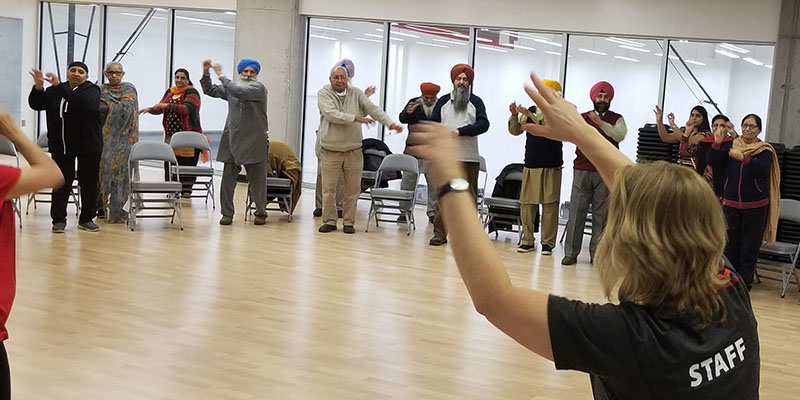 BRANTFORD, ON – The City of Brantford and the YMCA Employment and Settlement Services partnered to meet a growing need in the community by hosting a series of seniors workshops aimed at newcomers to the City. The first workshop, Living a Healthy Lifestyle, took place on Wednesday, March 20, 2019 from 5:30 p.m. to 8:30 p.m. at Laurier Brantford YMCA. Over 30 newcomer seniors learned about a healthy diet with a Public Health Dietitian from the Brant County Health Unit and participated in healthy exercise with a YMCA Fitness Instructor.
The next workshop, focusing on Seniors' Safety will be on Saturday, April 13, 2019, followed by a Picnic in the Park on Saturday, May 25, 2019. The topics of the workshops series are based on feedback from newcomer seniors and their families, which was collected at the New Year's celebration launch event in January. Over 100 people attended the launch event to meet new people in the community, try different cuisines and take family pictures at the photo booth.
For more information about the Newcomer Seniors Workshop Series, visit Brantford.ca/NewcomerServices.
The newcomer seniors programming is part of Brantford's Healthy Aging Plan, aimed at optimizing opportunities for health, participation, and security to enhance the quality of life as people age. A key focus of the Healthy Aging Plan is reducing social isolation. Newcomers are at a greater risk of social isolation due to additional barriers such as language comprehension and child-care responsibilities according to the newcomer needs assessment conducted by the City of Brantford in the summer of 2018.
Quotes
"The Living a Healthy Lifestyle workshop covers topics that were requested by newcomers to provide them with practical tips on healthy eating and exercise. We want to ensure that all residents, including newcomers, feel connected to their community and have the opportunity to participate in activities that interest them."
Gagan Batra, Community Development Coordinator, Strategic Planning & Community Partnerships, Health and Human Services, City of Brantford.
"Through our work with newcomers, we understand how important connections to the community and social activities are to the settlement and integration process. We have found that newcomer seniors can experience a greater sense of isolation. As such, we are excited to be part of these events in order to connect newcomer seniors together and to our Brantford community."
Lily Lumsden, Senior Regional Manager, YMCA Employment and Immigration Services, Hamilton/Burlington/Brantford
- 30 -
Media Contact:

Heather Carvalho, Communications Specialist, Communications and Community Engagement |
City of Brantford | Office: 519.759.4150 Ext. 5741 | hcarvalho@brantford.ca
Subscribe to this Page