City of Brantford to plant over 5,300 trees to help reduce impacts of climate change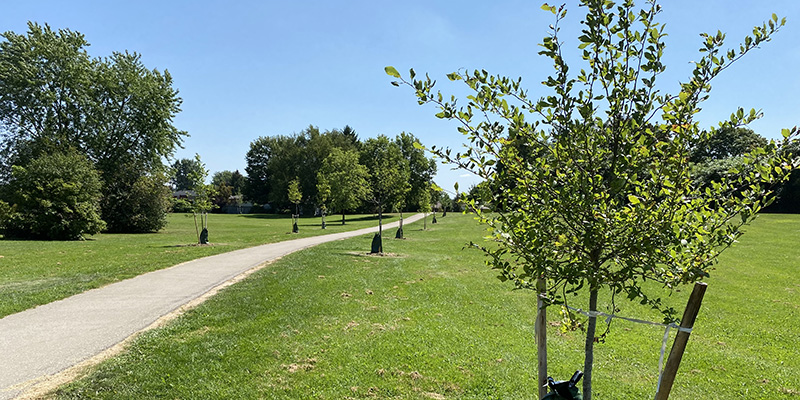 BRANTFORD, ON – The City of Brantford is pleased to announce a dramatic increase in the tree canopy coverage across the city as a result of a new tree planting program implemented this year. Adding to the City's tree canopy inventory is not only beneficial to the environment, but also offers a multitude of benefits to the community such as increased shade, improved air quality, increased stormwater storage, increased biodiversity and habitat, and of course beautifying our parks and neighbourhoods.
The City's 2021 tree planting program began in the spring with a free tree giveaway to residents in Brantford. Six different species of trees were distributed to registered participants during the last weekend in May and 200 trees found new homes in Brantford yards. The response to the program was overwhelming, prompting City staff to plan to implement the program again next year as part of the City's Earth Day (April 22), 2022 events.
Additionally, 78 trees, roughly 10 feet tall, have been planted in City parks around the community. This is in addition to the regular City park and boulevard planting of 400 - 500 trees that the City's Parks team plants annually.
The added number of trees includes 20 trees that were planted thanks to the generous donation from John Monné, who in 2019 donated $10,000 to plant trees in the community to reduce the impacts of climate change. Mr. Monné's trees have been planted throughout Bridle Path Park and along the walking path to create a shady walking route for local residents and students at Branlyn Public School.
As part of the 2021 program, trees have also been planted in the following public parks:
Brooklyn Park
Cedarland Park
Holmedale Park
John Wright Soccer Complex
Orchard Park
Parson's Park
Spring Street Buck Park
In the fall, additional trees will be planted on commercial and industrial properties thanks to funding from the Commercial and Industrial tree planting grant program which supports the City's efforts to increase tree coverage on both private and public property. More information on how to apply for this program will be released in September 2021.
Finally, the City is planting 5,000 new trees on publicly owned land adjacent to the landfill. This project alone will sequester approximately 1,500 tonnes of CO2e over the next 50 years as well as increase tree canopy, species habitat and biodiversity.
Media Contact:
Maria Visocchi Director, Communications and Community Engagement
City of Brantford | Office: 519.759.4150 Ext. 5754 | mvisocchi@brantford.ca
Subscribe to this Page