City offers plenty of Family Day Fun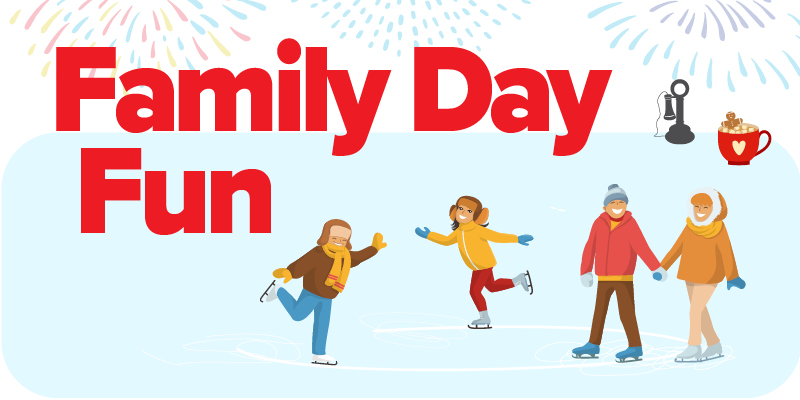 BRANTFORD, ON – The City of Brantford is pleased to offer a variety of fun activities for the upcoming Family Day holiday on Monday, February 20, 2023. Explore a National Historic Site, enjoy free skating and swimming and end the day with a fantastic fireworks display.
"Family Day is an important holiday that reminds us to take a step back from the busyness of everyday life to spend quality time with our families," says Brantford Mayor Kevin Davis. "That's why I encourage all residents to partake in the exciting Family Day activities available throughout the City of Brantford."
Everyone is invited to enjoy a free public swim and skate on February 20 from 2 p.m. to 4 p.m. at the Wayne Gretzky Sports Centre, sponsored by CUPE 181. The free indoor track will open at 6:30 a.m. to 10 p.m.
Bring your family for a pre-booked, guided tour of Alexander Graham Bell's home and Canada's first telephone office at the Bell Homestead NHS for the special admission price of only $1.00 per person. Children 6 and under are free. Tours can be booked between 9 a.m. to 3 p.m. by calling 519-756-6220 or by emailing bellhomestead@brantford.ca. Tours will not be available from 12 p.m. to 1 p.m.
Don't miss the free family fun happening at Harmony Square. The outdoor skating rink will be open from 10 a.m. to 10 p.m. with additional Family Day special events that begin at 4 p.m. Test your Disney knowledge with a game of family trivia at Hudson Public from 4 p.m. to 6 p.m. Registration is required by calling Hudson Public at 519-304-4561. Free hot chocolate sponsored by Tim Hortons will be available while quantities last starting at 6 p.m. You won't want to miss The BarryO Kidshow featuring a blend of ventriloquism and magic at 6 p.m., followed by a reading of the classic Dr. Seuss story, The Lorax. Families will also enjoy a special Family Day fireworks display at 7:30 p.m. followed by a live D.J. playing everyone's favourite hits after the fireworks until 8 p.m.
Learn more at brantford.ca/FamilyDay. Updates can also be found on the City's Facebook, Instagram and Twitter pages.
- 30 -
Media Contact:
Kelly Page | Communications Specialist, Communications and Community Engagement
City of Brantford | 519-759-4150 ext. 5779 | kpage@brantford.ca
Sharon Sayles | Communications Specialist, Communications and Community Engagement
City of Brantford | 519-759-4150 ext. 5218 | ssayles@brantford.ca
Subscribe to this Page