City promotes inclusion during National AccessAbility Week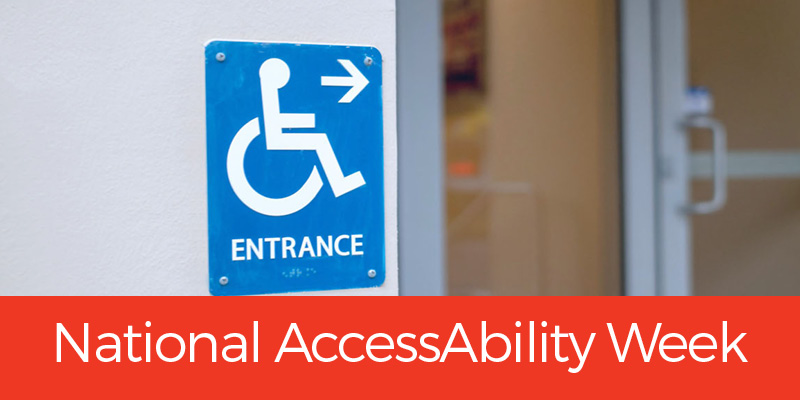 BRANTFORD, ON – The City of Brantford is joining Canadians across the country in celebration of National AccessAbility Week from May 31 to June 6, 2020, to promote inclusion and educate the public on accessibility. The weeklong campaign celebrates the efforts made to remove barriers and the collaborative effort for Canada to be fully accessible and inclusive.
Celebrated annually during the first week of June, National AccessAbility Week is a campaign to raise awareness about disability, accessibility, and inclusion. AccessAbility Week celebrates both the right and the opportunity for every individual to participate in all aspects of human life. National AccessAbility Week is ultimately about more than just one week a year. It is a call to respond purposefully to build a society where barriers to inclusion are removed, and to ensure the independence, self-esteem, dignity, and security of all of our citizens.
To mark the important occasion and ensure the public is aware of these important initiatives, the City will run a social media campaign that highlights accessibility topics such as the Accessibility for Ontarians with Disabilities Act (AODA), accessible parking, the City implemented Blindsquare app, and accessible transit.
"National AccessAbility Week provides an excellent opportunity to recognize the efforts being made by the City, local businesses, and individuals who are removing barriers for those in our community living with a disability," said Jenny Sawicki, Accessibility Coordinator for the City of Brantford.
The City recently installed Blindsquare beacons throughout a number of facilities that use Bluetooth signals to connect to the Blindsquare app. The app provides navigational information about the layout of a space for those with low or no vision. The beacons have been installed at the Brantford Civic Centre, City Hall, Farmers Market, Sanderson Centre, Transit Terminal at 64 Darling St, and the Wayne Gretzky Centre.
According to the Canadian Survey on Disabilities 2017, 1 in 5 Canadians aged 15 years and over have one or more disabilities that limit their daily activities. For many, these challenges and obstacles in their daily life can limit their participation in society.
To learn more about National AccessAbility Week, please visit brantford.ca/NationalAccessAbilityWeek.
- 30 -
Media Contact:
Kelly Page, Communications Specialist, Communications and Community Engagement |
City of Brantford | Office: 519.759.4150 Ext. 5741 | kpage@brantford.ca
View more news
Search the City Newsroom
Subscribe to News Alerts | City Website| Privacy Policy
© City of Brantford, 100 Wellington Square Brantford
Subscribe to this Page