City receives grant to help small businesses adopt online technologies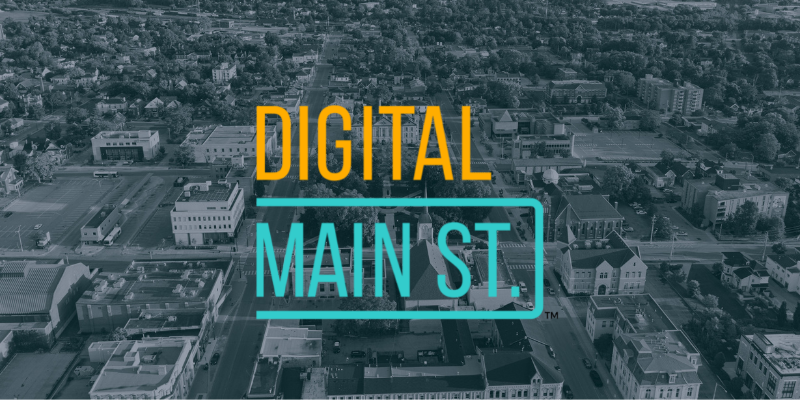 BRANTFORD, ON – The Brantford-Brant Business Resource Enterprise Centre (BRC) in partnership with the Downtown Brantford Business Improvement Association (DBBIA) has received a $72,500 grant from Digital Main Street to implement a Digital Service Squad to help business owners improve their digital presence through the adoption of digital tools and processes.
Digital Service Squads are fundamental to Digital Main Street's design and success, with trained specialists who meet with small businesses, at no cost, to help them improve their online presence. The squads assist businesses with a number of activities including developing a Google My Business profile, enhancing their social media presence, and providing support for basic website and e-commerce set-up. Squads will also assist qualified small businesses through the application process for a $2,500 Digital Transformation Grant, which includes an online assessment, online training modules, and the development of a Digital Transformation Plan (DTP).
Businesses that are interested in participating in the free Digital Main Street program or individuals who would like to learn more about joining the Digital Service Squad can contact the Brantford-Brant Business Resource Centre at brc@brantford.ca or 519-756-4269. To learn more, visit brantford.ca/brc.
Quotes
"Small businesses are the largest employers in our economy and their success is all of Ontario's success," says Brantford-Brant MPP Will Bouma. "I will always advocate for helping small businesses utilize technology to work smarter as they already work hard making Ontario the powerhouse of Canada's future prosperity."
Brantford-Brant MPP Will Bouma
"Small businesses are innovative and entrepreneurial, but often lack the resources to respond to change, be resilient, yet flexible," says Kay Matthews, Executive Director, OBIAA. "OBIAA is delighted to work once again alongside the Digital Main Street team and is thrilled to support the City of Brantford's squad. The Digital Main Street program's resources, grants, training, and Digital Service Squad assistance provide the means for more small businesses in communities across the City of Brantford to adopt innovative ways, create new revenue streams, expand their markets, and face the future with optimism and confidence."
Kay Matthews, Executive Director, Ontario Business Improvement Area Association (OBIAA)

About the Brantford-Brant Business Resource Enterprise Centre (BRC)
The Brantford-Brant Business Resource Enterprise Centre (BRC) is an integral part of the City's Economic Development and Tourism Department and the Ministry of Economic Development, Job Creation and Trade's network of Small Business Enterprise Centres that serve Ontario's small business community. The BRC's goal is to assist in the creation and development of small business in the City of Brantford. To learn more, visit brantford.ca/brc.
ABOUT OBIAA
OBIAA is the network that represents unique and vibrant BIAs across Ontario. The Association supports and advocates on behalf of its members through the building and nurturing of strong relationships and partnerships. OBIAA is a leader in the development and sharing of information, tools, resources and best practices, and is the ONE voice on common issues.
About Digital Main Street
Digital Main Street is a program that helps main street businesses achieve digital transformation. The program is built around an online learning platform, structured training programs, and our Digital Service Squad, a team of street-level team members who help main street businesses grow and manage their operations through technology. Digital Main Street was created by the Toronto Association of Business Improvement Areas (TABIA) with direct support from the City of Toronto. DMS is also supported by a group of strategic business partners, including Google, Mastercard, Shopify, Microsoft, Facebook, Intuit QuickBooks, Square, and Lightspeed. The program is delivered Pan Canada in support of small business thanks to the support of all three levels of government. To learn more, visit www.digitalmainstreet.ca.
Media Contact:
Chelsey Tobin | Communications Specialist, Communications and Community Engagement
City of Brantford | 519-759-4150 ext. 5048 | ctobin@brantford.ca
Subscribe to this Page