City rededicates walkway to honour former Alderman Art Stanbridge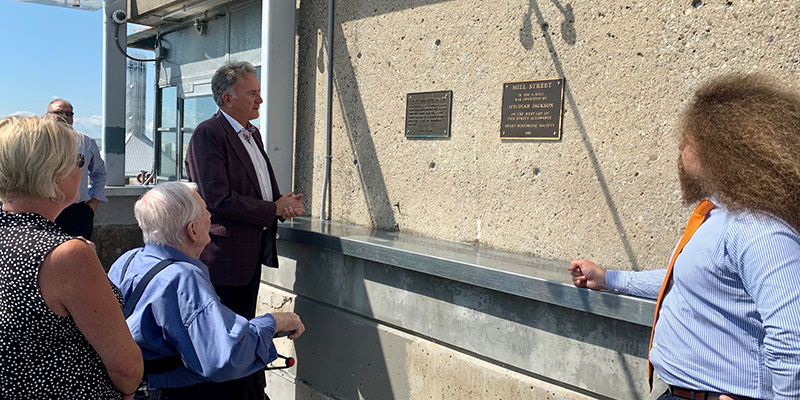 BRANTFORD, ON – At a ceremony held today, City of Brantford Mayor Kevin Davis and Ward 5 Councillor Joshua Wall were joined by a special guest of honour and his family to formally rededicate "Art Stanbridge Walkway" in Mr. Stanbridge's honour.
The pedestrian walkway, joining the Market Centre Parkade and Laurier Brantford YMCA is located above the Market Parkade and is accessible from both the Parkade and Colborne Street. Originally designated as the "Art Stanbridge Walkway" in 1987 to recognize Mr. Stanbridge's efforts to revitalize the City's downtown, the new walkway rebuilt as part of the Laurier Brantford YMCA construction project now also bears his name.
Art Stanbridge served on Brantford City Council for 12 years, from 1971-1982. Throughout his lengthy career on Council, Mr. Stanbridge was a member of numerous Committees of Council, however, focused much of his time on upgrading the downtown area, and was integral to initiating the Downtown Revitalization project. In recognition of his significant contribution, the walkway over the street known as Mill Street from the west of the Market Centre Parkade to Colborne Street was dedicated and plaqued as the Art Stanbridge Walkway for the first time in 1987, and again today.
During his remarks, Mayor Davis said, "one of my favourite things to do as Mayor is to get to honour people like Art who has devoted so much of his life to making our community better." "I was present at the first dedication when I was on Council in 1987 and it's such a privilege to be back here today to celebrate you again."
Councillor Wall, who brought today's rededication initiative forward to Council, recalled that he remembered walking along the "Art Stanbridge" walkway when he was younger, and that he was so proud to now be on Council following in the footsteps of heroes such as Mr. Stanbridge."
In his remarks, Mr. Stanbridge said he "was very grateful that the City recognized him again this way on the new walkway and that it's wonderful not to be forgotten."
Mr. Stanbridge was also inducted to the City's Wall of Recognition in 2008.
-30-
Media Contact:
Maria Visocchi Director, Communications and Community Engagement
City of Brantford | Office: 519.759.4150 Ext. 5754 | mvisocchi@brantford.ca
Subscribe to this Page