City thanks residents and organizations for significant PPE donations to protect frontline workers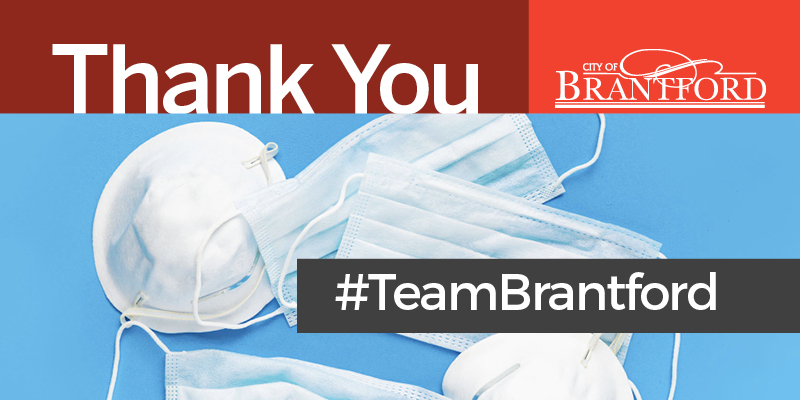 BRANTFORD, ON – The City of Brantford would like to take this opportunity to express our sincere thanks and to several local businesses, organizations and residents who have provided generous donations of personal protective equipment (PPE) to help protect frontline healthcare workers and essential service providers in our community.

Last month the City launched a campaign on social media and through digital and print ads in the Expositor requesting donations of ppe supplies. The response has been overwhelming with residents and businesses stepping up to support our frontline workers. "We are profoundly thankful to our community for coming together in this time of need to help protect our frontline workers during the Covid-19 pandemic," said Mayor Kevin Davis. "I have always known this community to be generous of heart and this is further evidence of what we can achieve when we work together towards a common goal and purpose."

The City is grateful to the following businesses that have provided ppe donations, including the City's surplus of inventoried supplies:
Anonymous Community Donors
Antler Services
Apotex Pharmachem
Brant Family and Children's Services
Brantford Power
Charles Jones Industrial Limited
Clarence Street Dental
Creative Circuits
Crystal Nails
CV Bus Sales
Enbridge
Ferrero
GIZEH Packaging NA
Group Donation by Oakhill Marketplace, Canada's One Stop Shop and their customers
Group Donation by Whatcha Wanna Wear, Northern Painters and Comfort Plus Climate Care
Laurier University
Koolatron Corporation
Magic Nails
Rusty's No Frills.
SC Johnson
These much needed ppe supplies will help reduce the risk of contracting the Coronavirus (Covid-19) for those working on the frontlines.

If you or your business can donate, please contact 519-759-4150 ext. 5395 or deliver new unopened packages of ppe supplies to the outdoor entrance areas of Brantford Fire Station #1 at 60 Clarence St. or Fire Station #4 at 400 Colborne St. W. in Brantford.

For City-wide Covid-19 updates, please visit brantford.ca/Covid-19.
- 30 -
Media Contact:
Kelly Page, Communications Specialist, Communications and Community Engagement |
City of Brantford | Office: 519.759.4150 Ext. 5741 | kpage@brantford.ca
Subscribe to this Page