City to observe National Truth and Reconciliation Day on Friday, September 30th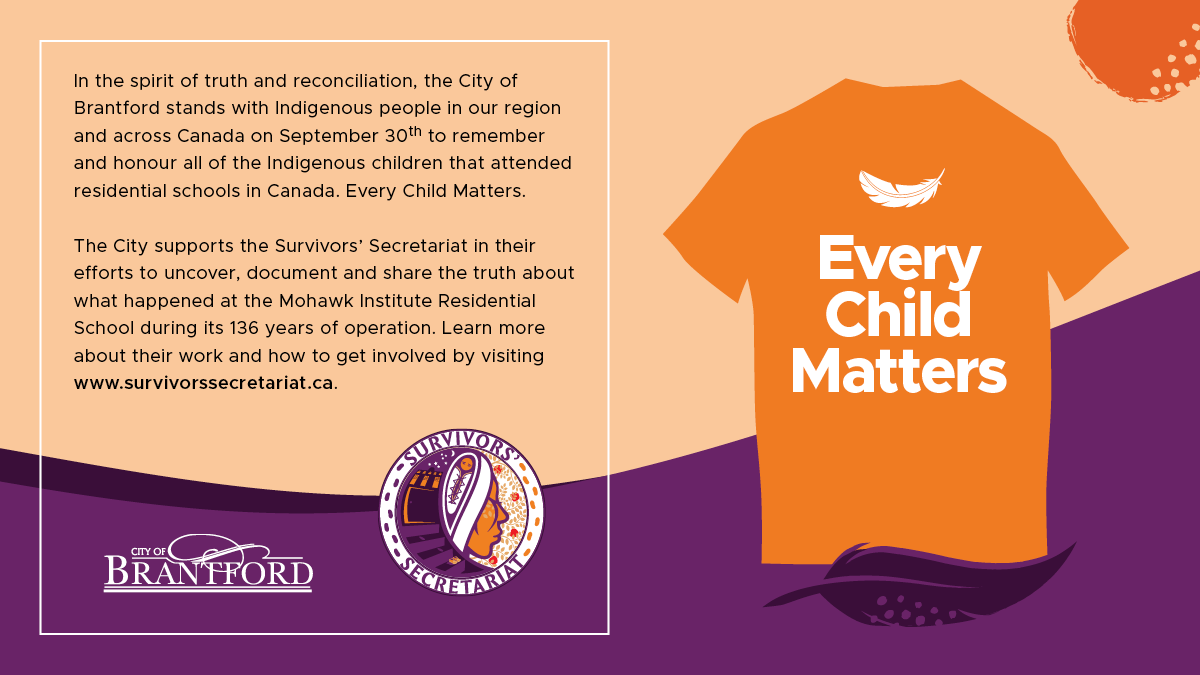 BRANTFORD, ON: On Friday, September 30th the City of Brantford will join communities across Canada to recognize and observe National Day for Truth and Reconciliation. The statutory holiday was created to honour First Nations, Inuit and Métis survivors, their families and communities, and to provide an important opportunity for Canadians to remember the victims of the Indian Residential School System and to reflect on the painful lasting impacts on Residential School survivors, their families and Indigenous communities.
The statutory holiday on September 30 coincides with Orange Shirt Day, inspired by the story of Phyllis Webstad, a former residential school student who had her orange shirt taken away on her first day at residential school. Wearing orange on September 30 honours and remembers the experiences and loss of Indigenous children who were placed in residential schools.
Local events in observance of National Truth and Reconciliation Day
To demonstrate our solidarity with Indigenous communities and to promote Indigenous culture, the City of Brantford has partnered with multiple Indigenous organizations to facilitate an "Honouring our Children Social" at Mohawk Park (51 Lynwood Drive) on Friday September 30th from 5-8 p.m. The event will feature Indigenous Dance, Singing, Craft Vendors, food, and information booths. Attendees are encouraged to bring their own lawn chairs. All are welcome.
City facilities that are open September 30, 2022
✅ Brantford & Area Sports Hall of Recognition
✅ Brantford Farmers' Market
✅ Doug Snooks Eagle Place Community Centre
✅ Garbage and Recycling Collection: no changes to regular pick-up/collection days
✅ Landfill site: open regular hours
✅ Tourism Brantford's Information Desk at the Wayne Gretzky Sports Centre
✅ Wayne Gretzky Sports Centre: open regular hours
✅ Woodman Park Community Centre
City services/facilities closed on September 30, 2022
Bell Homestead National Historic Site
Beckett Adult Leisure Centre
Branlyn Community Centre
Brantford Transit: no service
Brantford Lift: no service
Brantford Public Library
Brantford City Hall
Parking Enforcement Office
T.B. Costain/SC Johnson Community Centre
Online Services Reminder
Many City services can be requested 24 hours a day, 7 days a week by using one of our convenient online forms. Please visit Brantford.ca/RequestService to learn more.
-30-
Media Contact: 

Maria Visocchi Director, Communications, Community Engagement and Customer Service
City of Brantford | Office: 519.759.4150 Ext. 5754 | mvisocchi@brantford.ca
The City of Brantford Newsroom
Subscribe to News Alerts | City of Brantford Website | Privacy Policy
© City of Brantford, 58 Dalhousie Street, Brantford.
Subscribe to this Page