City unveils rainbow crosswalk as enduring symbol of diversity and inclusiveness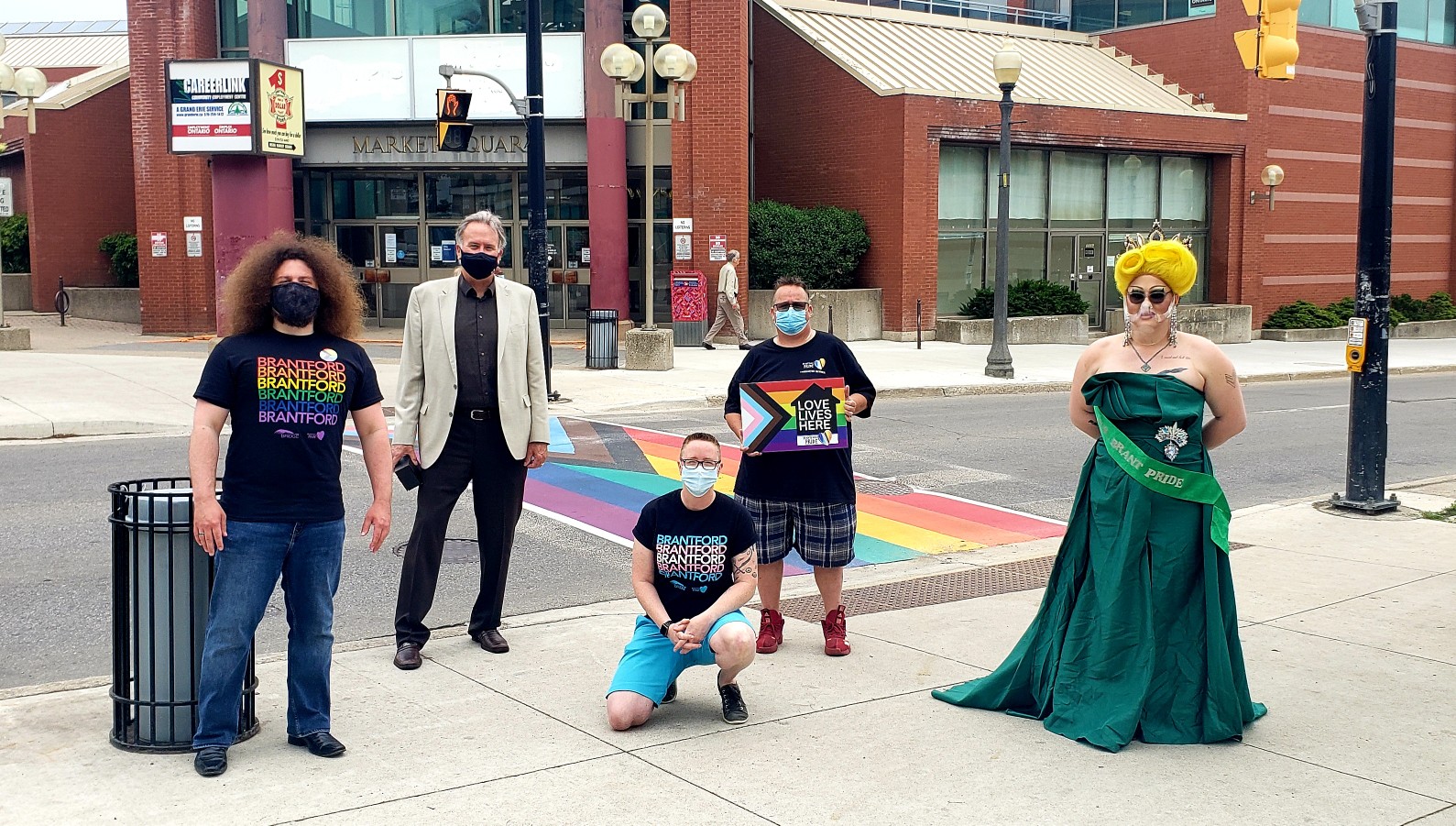 BRANTFORD, ON – Today, Brantford Mayor Kevin Davis was joined by Ward 5 Councillor Joshua Wall, representatives of Brantford Pride including Christine Wildman, Gaille Mitchinson and Miss Demeanor, to celebrate the official unveiling of Brantford's first rainbow crosswalk.

Brantford is proud to join countless municipalities around the world in prominently displaying our support for 2LSGBTQ+ communities, and the City's ongoing commitment to inclusion, diversity and equity for all of our citizens. Installation of the rainbow crosswalk was unanimously approved by Brantford City Council in April.
The crosswalk design is based on the Daniel Quasar Flag, featuring rainbow colours that represent LGBT communities, black and brown stripes that represent marginalized LGBT communities of colour, and pink, light blue and white stripes that are representative of the Transgender Pride Flag. The Pride flag was also raised at City Hall on June 1st to kick off Pride month in Brantford.
The rainbow crosswalk was installed in the early hours of Tuesday June 8th, 2021 at Colborne and Market Street, in front of the Brantford Public Library in downtown Brantford.
"I see this crosswalk as a key step to making Brantford a more inclusive environment for our local 2SLGBTQ+ community," said Branford Mayor Kevin Davis. "I also want to take this opportunity commend Councillor Wall for all his efforts to make this initiative a reality. It's a proud day for our city."
"I am thankful to the 2SLGBTQ+ community, The Bridge Brant, Brantford Pride, City staff, and our Council for helping make this initiative possible," said Ward 5 Councillor Joshua Wall. "Let this crosswalk serve as a permanent reminder that our city is a city of love, understanding, and acceptance where all are welcome. and let this help literally and figuratively get us to where we want to be."
The City of Brantford strongly urges all members of the community to respect this important symbol of inclusiveness and to not participate in any efforts to vandalize or damage the crosswalk. The crosswalk location will be actively patrolled by the City's Downtown Security Team and monitored by CCTV cameras.
-30-
Media Contact: 

Maria Visocchi Director, Communications and Community Engagement
City of Brantford | Office: 519.759.4150 Ext. 5754 | mvisocchi@brantford.ca

View more news
Search the City Newsroom
Subscribe to News Alerts | City Website| Privacy Policy
© City of Brantford, 100 Wellington Square Brantford
Subscribe to this Page