City urges caution during current winter storm event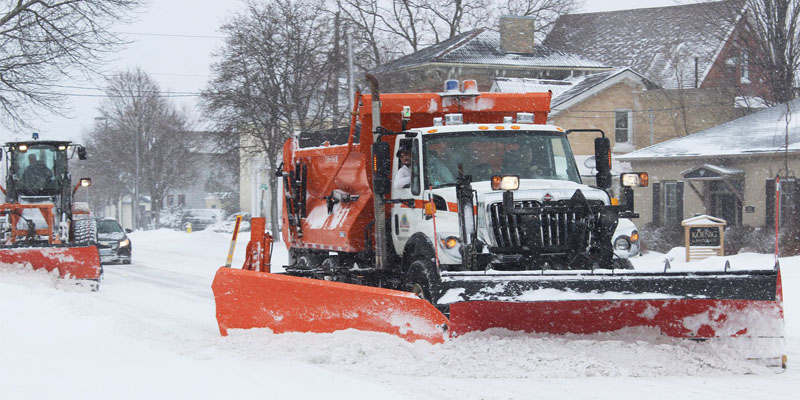 BRANTFORD, ON: A snowfall warning has been issued for the City of Brantford with snowfall amounts of 15 to 20 cm expected today January 25, 2023. City snow clearing operations are ongoing and will continue as needed throughout this weather event. As a result of these conditions, we suggest that residents minimize their walking and driving activities today and into early tomorrow.
Drivers are urged to use extreme caution while operating your vehicles to ensure you get to your destination safely. Parking your vehicle in driveways, both during the day and overnight will greatly improve the ability to provide effective snow removal operations. Please stay well back from snow removal equipment and give City crews the room needed to safely perform their difficult task.
Again, we strongly encourage residents to please park their vehicles off the street whenever possible during the weather event. This will allow City plow trucks to service roadways, sidewalks and bicycle lanes more effectively, especially in residential areas. In addition, we advise that when residents are shovelling their sidewalks that they place snow in the same direction that the plow travels. In general, that will be to the right of the driveway when looking outside your front door.
For urgent City inquiries related to the winter storm today, please call Customer Service at 519-759-4150.
Emergency Shelter
If an individual is seeking a space to stay warm and access resources, the Housing Resource Center offers resources/services as well as access to shelters where a warm space is available. The Housing Resource Centre (www.hrcbrantford.org) can be contacted at 226-227-7692, or email hrc@salvationarmy.ca Monday to Friday between 8:30 and 4:30. For after-hours emergency shelter services, please contact the Salvation Army at 519-753-4193.

View more news
Search the City Newsroom
Subscribe to News Alerts | City Website| Privacy Policy
© City of Brantford, 58 Dalhousie St. Brantford, ON
Subscribe to this Page