Let's Clear the Air Brantford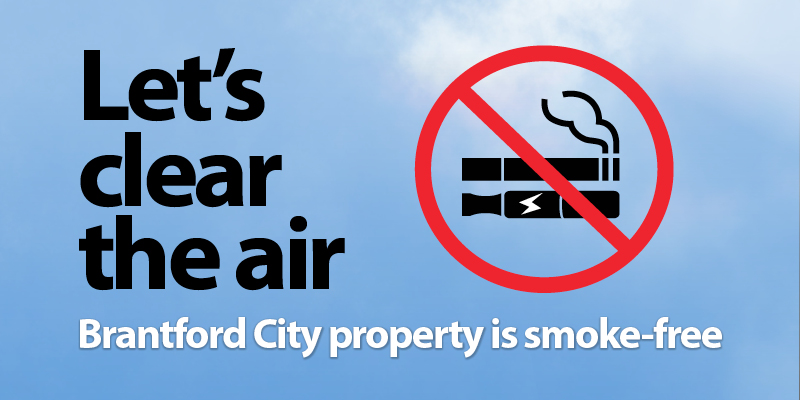 BRANTFORD, ON – As part of the "Let's Clear the Air" campaign, the City of Brantford reminds residents that smoking or vaping of any substance on City-owned properties is prohibited under the Smoking – Clean Air By-Law (Municipal Code Chapter 570). The by-law outlines that smoking tobacco or cannabis or vaping of any substance is not permitted at:
City owned administrative buildings, including parking lots
City-owned recreational centres
City-owned sports facilities
Parks
Sidewalks on City building property or within a public park
Trails
A ticket and fine will be issued to those who do not follow the law with a maximum fine of $5,000.
Smoking or vaping is permitted on private property that is subject to the landowner policies and/or permissions, as well as on sidewalks adjacent to a City street.
The "Let's Clear the Air" campaign runs throughout July and includes online and print advertising, an educational video, transit shelters, billboards, and social media.
For more information, residents are encouraged to visit Brantford.ca/CleanAirBylaw.
- 30 -
Media Contact:
Chelsey Tobin | Communications Specialist, Communications and Community Engagement
City of Brantford | 519-759-4150 ext. 5048 | ctobin@brantford.ca
Subscribe to this Page