Code Mobile rolls into Brantford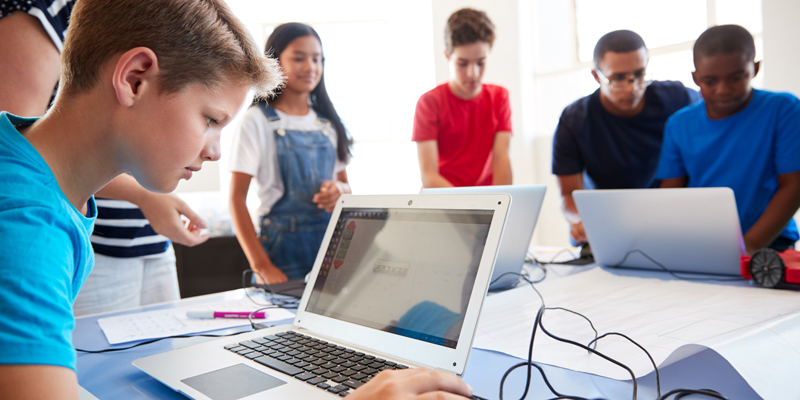 BRANTFORD, ON – Residents of all ages can learn to code this summer. Code Mobile, a computer lab on wheels, will be stopping in the City of Brantford to offer free interactive classes to teach computer programming and software code.
Code Mobile is a Canadian initiative to inspire and educate people of all ages to become passionate builders – not just consumers of technology. Code Mobile has visited over 250 cities and taught more than 140,000 people across Canada since launching in 2016.
Coding is cited as being one of the most relevant skills that can lead people to better employment outcomes and self-empowerment. Research also shows that children who learn code improve their creativity and math skills and are better prepared for jobs in today's market.
Providing access to unique learning opportunities is a key focus of the City's healthy aging and youth services strategies. "We are excited to offer Code Mobile classes to children, youth, and adults in Brantford. We hope participants learn more about different types of technology that can support their employment and educational goals." says Gagan Batra, Community Development Coordinator for Health and Human Services with the City of Brantford. "
Code Mobile workshops will be offered on the following dates:
Wednesday, August 7, 2019
Kids Scratch Coding
10:00 a.m. – 12:00 p.m. (ages 6-8) or 1:00 p.m. – 3:00 p.m. (ages 9-12)
Brantford Visitor and Tourism Centre
399 Wayne Gretzky Parkway, Brantford
Thursday, August 8, 2019
Interactive Art Processing
10:00 a.m. – 12:00 p.m. (ages 13-18)
Scratch Coding
1:00 p.m. – 3:00 p.m. (ages 13-18)
Brantford Civic Centre
79 Market St., Brantford
Friday, August 9, 2019
HTML and CSS
10:00 a.m. – 12:00 p.m. (18+) or 1:00 p.m. – 3:00 p.m. (18+)
Wilfrid Laurier Creativity Hub
Brantford Convention Centre
100 Market St., Brantford
To register for one of the Code Mobile classes visit bit.ly/CodeMobileBrantford or call 519-759-4150 ext. 6393.

- 30 - 

Media Contact: 

Kelly Page, Communications Specialist, Communications and Community Engagement |
 City of Brantford | Office: 519.759.4150 Ext. 5741 | kpage@brantford.ca
Subscribe to this Page