Committee endorses plan to attract proposals to develop Colborne Point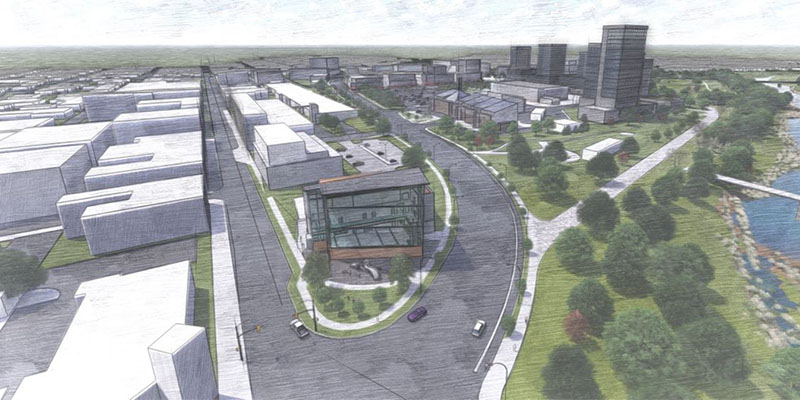 BRANTFORD, ON – At their meeting held Tuesday December 8, 2020, the City's Community of the Whole-Community Development Committee (made up of all members of Council) unanimously approved a plan to issue a 'Request for Expressions of Interest' for the purchase and redevelopment of approximately 1.6 acres of land referred to as Colborne Point, located at Colborne Street and Icomm Drive.
Recognized as a high-profile key development site and a natural gateway to the heart of the city, Colborne Point is a vital link to the ongoing revitalization of the city's downtown. Unique advantages such as the prominence of the site, as well as the scenic views afforded of the Grand River lend themselves to an iconic architectural development of significant stature.
The City's Official Plan envisions development on Colborne Point including a mix of residential and commercial buildings, with a 3-story minimum building height that will improve the streetscape and elevate the design of downtown Brantford. Ground floor uses along Colborne Street would ideally include restaurants, cafes and retail uses. Parking is to be incorporated at the ground floor level along Icomm Drive and not extend beyond the edges of the building footprints. Public space, including convenient access to Icomm Drive and the trails located along the Grand River and the lower downtown area are also envisioned.
The Colborne Point lands are shown within the City's Official Plan as being part of the Downtown Urban Growth Centre, which has been planned to achieve an overall minimum density of 150 residents and jobs combined per acre by 2031.
"I am so excited and passionate about this initiative," said Mayor Kevin Davis. "This has the potential to be a legacy project of the highest quality that reflects both our rich culture and history as well as the natural beauty of the area. I am also confident that what we do with this gateway space will generate more interest in development of that part of downtown and contribute to making this area a destination of choice to live, work, eat, shop, learn, explore and play."
-30-

Media Contact:
Maria Visocchi Director, Communications and Community Engagement
City of Brantford | Office: 519.759.4150 Ext. 5754 | mvisocchi@brantford.ca
Subscribe to this Page