Community invited to dedication and return of the Field Howitzer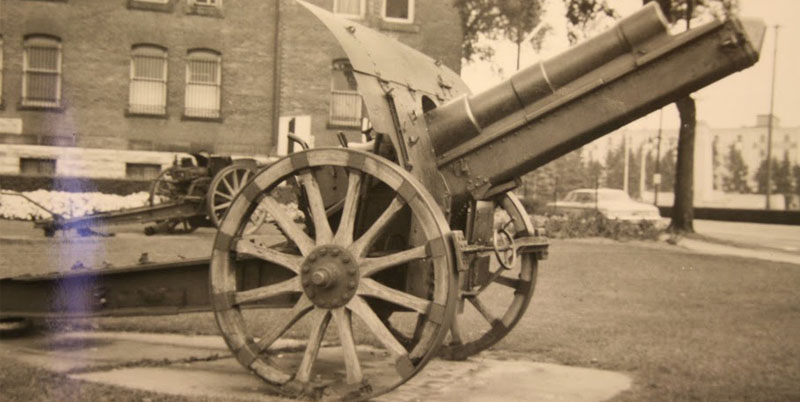 Brantford, ON – The City of Brantford is proud to join the 56th Field Artillery Regiment in honouring the return and dedication of the Field Howitzer on Saturday, September 28, 2019. The event, which is part of Valour Day, will include a ceremonial parade of the Howitzer from Victoria Square to the Brant Armoury, followed by the dedication of the restored Howitzer at Jubilee Terrace Park, adjacent to the Armoury. The public is encouraged to attend all Valour Day events in the city beginning with the Inspection of the Regiment at Victoria Square at 10:30 a.m.
The German Howitzer was one of over 500 field guns, howitzers and mortars that reached Canadian shores after World War I. The 116th Battalion, including seconded Brantford and Brant County men, captured the gun from Demuin, France at the beginning of the Battle of Amiens and gifted it to the City of Brantford on August 9, 1918. The gun recently underwent restoration and repairs. A new memorial plaque will also be dedicated adjacent to the Howitzer honouring those who served and sacrificed for our country during times of war, military conflict, and peace.
"The Howitzer represents the service and sacrifice of those who served from our community during the war," says Col. Lawrence Hatfield, Commanding Officer of the 56th Field Artillery Regiment. "We are honoured to be hosting Valour Day to pay our respects to the 116th Battalion that will rightfully receive a dedication ceremony for the gun."
In honour of the event, the City of Brantford has installed pole banners of WWI veterans around the Armoury and the Cenotaph, and a series of posts paying tribute to veterans related to the Howitzer on the City's Facebook, Twitter and Instagram pages.
The order of proceedings for the Dedication is as follows:
10:30 a.m. – Inspection of the Regiment (Victoria Square)
11:00 a.m. Regimental March Past (Dalhousie Street)
11:30 a.m. – Dedication of the Jubilee Terrace Howitzer with remarks by Brantford Mayor Kevin Davis and a reviewing officer from the Department of National Defence
12:00 p.m. – Public reception including light refreshments
1:00 p.m. – Army Reserve Recruiting Open House
All events are open to the public.
Brant Avenue between Dalhousie and Charlotte Streets will be closed on Saturday, September 28, 2019 from 10:00 a.m. to 11:00 a.m. for the Valour Day parade.
Photo Caption:
The attached photo features the Howitzer captured by the 116th Battalion pictured in the forefront. The field canon pictured in the background was captured by the 18th Battalion.
-30-
Media Contact:
Kelly Page, Communications Specialist, Communications and Community Engagement |
City of Brantford | Office: 519.759.4150 Ext. 5741 | kpage@brantford.ca
Subscribe to this Page