Congratulations to the City of Brantford 2019 Accessibility Awards Winners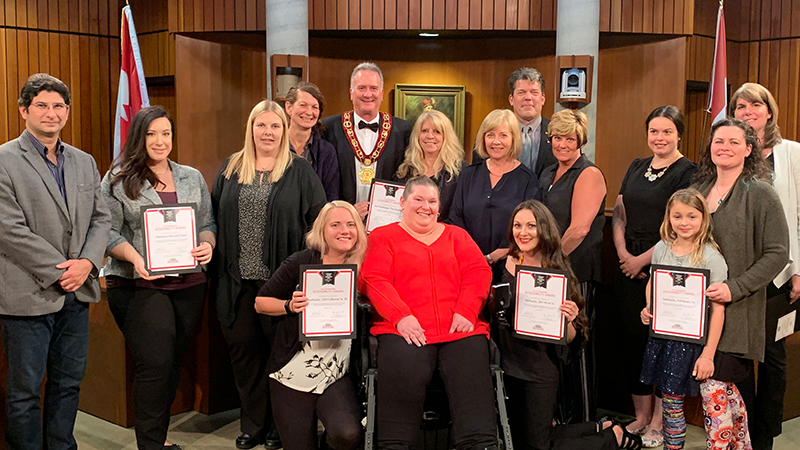 BRANTFORD, ON – The City of Brantford, in partnership with the Brantford Accessibility Advisory Committee, is proud to announce the 2019 Accessibility Improvement Awards Winners to celebrate National Access Awareness Week, May 26 to June 1, 2019. The awards recognize and celebrate a person, group or organization that has made, or is in the process of making, a significant contribution towards improving accessibility to accommodate persons with disabilities.
"We are excited to recognize the 2019 Accessibility Awards Winners," says Jenny Sawicki, City of Brantford Accessibility Coordinator. "They each have a commitment in empowering individuals with disabilities, helping improve the quality of their lives."
Hampton Inn and Suites was recognized for their ability to accommodate a barrier-free stay for guests with disabilities.
The Adult Recreation Therapy Centre (ARTC) was awarded for their accessible building that has positively and significantly impacted the organization's ability to deliver programs and services for those with accessibility needs.
Farm Boy was acknowledged for their unique and rare entrance that considers customers who do not drive to the store, and offers a safe pathway from the street sidewalk to the doors.
Tim Hortons franchise owner Keri Korfmann was recognized for providing numerous opportunities to visually impaired students to gain valuable work placement experiences.
All three Starbucks locations in Brantford were honoured for their commitment to accessible customer service and information delivery.
Amy Spence was recognized for her willingness to learn Sighted Guide to assist those with sight loss who request guiding in and around Scotiabank where she works.
The Accessibility Awards winners were selected by the Brantford Accessibility Advisory Committee after requesting nominations from the community. For more information about the awards, visit www.brantford.ca/accessibility.
- 30 -
Media Contact:
Heather Carvalho, Communications Specialist, Communications and Community Engagement |
City of Brantford | Office: 519.759.4150 Ext. 5741 | hcarvalho@brantford.ca

Subscribe to this Page