Essential lighting upgrades completed at Steve Brown Sports Complex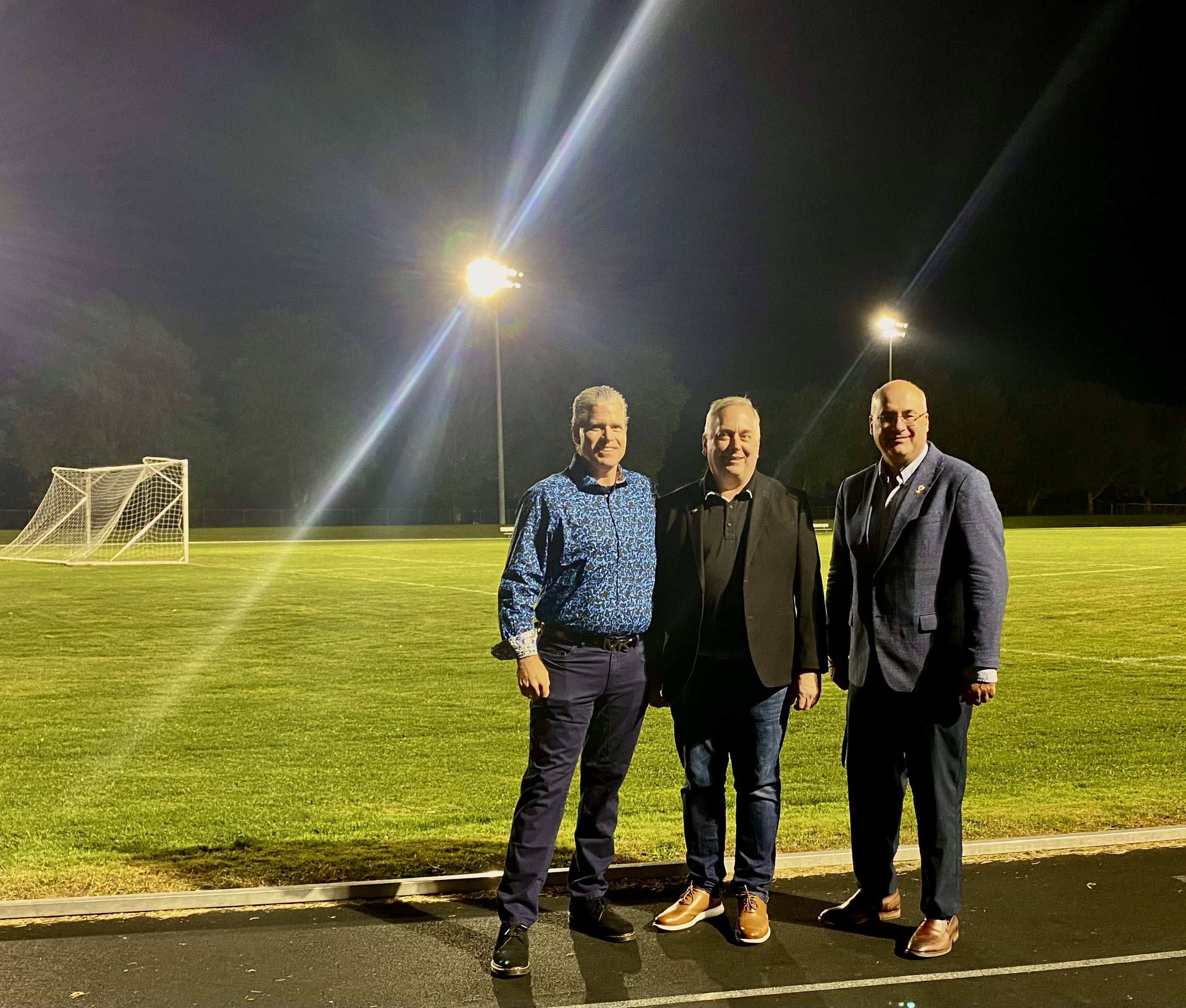 BRANTFORD, ON – On Wednesday, September 20th, Ward 1 Councillor Michael Sullivan and City of Brantford staff joined Ontario Trillium Foundation Volunteer Justin Bester, and MPP Brantford-Brant Executive Assistant & Sr. Advisor, Milan Novakovic at the Steve Brown Sports Complex to celebrate the completion of much needed energy-efficient lighting upgrades which were made possible thanks to a $500,000 Community Building Fund - Capital grant from the Ontario Trillium Foundation (OTF). These upgrades are expected to significantly extend the operational lifespan of the facility.
"Congratulations to the City of Brantford for a successful application for this much needed funding from the Ontario Trillium Foundation", said Brantford-Brant MPP Will Bouma. "The Steve Brown Sports Complex is an integral part of the South-West part of the Brantford community and will continue to be for decades to come. Well done!"
Prior to these upgrades, visibility during later service hours was limited at the blue and red ball diamonds, and the all-weather track and soccer fields. The improved energy efficient lighting now extends to all outdoor recreational facilities within the Complex, ensuring that facility users can safely and comfortably access these amenities during the hours of highest demand, including afternoons and evenings.
"We are grateful to the Ontario Trillium Foundation for the generous grant that made this much needed upgrade possible. With energy-efficient technology at the core, we're not only enhancing functionality, safety, and the overall visitor experience, but also making a conscientious choice for a greener and most cost-effective solution to extend the lifespan of this beloved facility," said Kevin Davis, Mayor of Brantford.
Located at Lion's Park in Brantford (20 Edge Street), the Steve Brown Sports Complex is the largest multi-use outdoor sports facility in the southwest end of the city, contributing to the health and wellbeing of over 30,000 facility users annually. In addition to the softball diamonds, soccer fields and track, the facility also features free tennis and pickle ball courts for public use. For more information about public facilities hours and bookings in Brantford, please visit facilities.brantford.ca or call 519-759-4150.
The Ontario Trillium Foundation (OTF), an agency of the Government of Ontario, and one of Canada's leading granting foundations has been making a lasting impact in communities for 40 years. Last year, OTF invested over $100 million into 1,022 community projects and partnerships. To learn more about OTF community projects, please visit otf.ca.
-30-
Media Contact:
Maria Visocchi | Director, Communications and Community Engagement
City of Brantford | 519-759-4150 ext. 5754 | mvisocchi@brantford.ca


The City of Brantford Newsroom
Subscribe to News Alerts | City of Brantford Website | Privacy Policy
© City of Brantford
Subscribe to this Page