First phase of the TH&B Crossing Bridge Public Art Project complete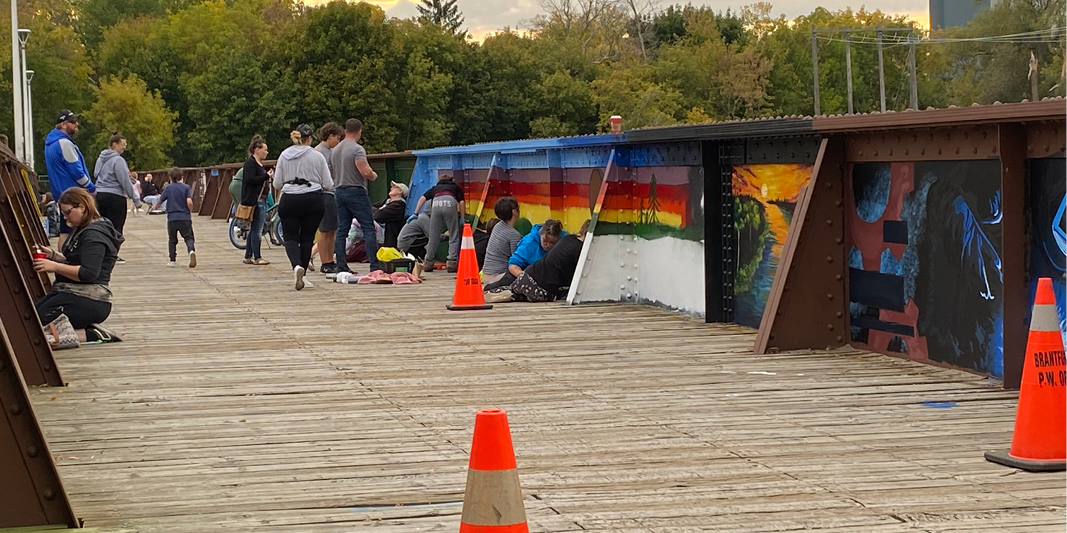 BRANTFORD, ON – Over half of the interior panels of the TH&B Crossing Bridge have been painted by community members as part of the first phase of the TH&B Crossing Bridge Public Art Project. Participants included school groups, local businesses, community organizations and individuals who brought their own designs and capabilities to create a beautiful piece of public art for the entire community to enjoy.
"We'd like to thank every participant who shared their time and talents to make the TH&B Crossing Bridge a bold and beautiful artistic statement of community collaboration," says Laura Almeida, Policy and Program Support Analyst, City of Brantford. "We are looking forward to the second phase of the project which will begin with a call for submissions early next year."
The TH&B Crossing Bridge is a well utilized pedestrian crossing over the Grand River and an important fixture within the city's landscape. As the bridge remained open for the duration of the project, many pedestrians crossing the bridge stopped to compliment participants on their work. Some made a point of stopping by the bridge on a regular basis to see how the designs were taking shape over time.
The community is invited to visit www.brantford.ca/THBPublicArt where pictures of the 60 painted panels are available to view and information about the artists is available.
The second phase of the project will begin in early 2023 when submissions will be received and considered for the remaining panels. Painting will begin when warmer weather returns in Spring 2023.
The TH&B Public Art Project was unanimously endorsed by City Council and the Cultural Advisory Committee to help deter inappropriate graffiti and foster a sense of pride in this important landmark. The completed artwork has been sealed with a clear protective coating.
- 30 -
Media Contact:
Heather Carvalho | Manager, Communications and Community Engagement
City of Brantford | 519-759-4150 ext. 5741 | hcarvalho@brantford.ca
The City of Brantford Newsroom
Subscribe to News Alerts | City of Brantford Website | Privacy Policy
© City of Brantford, 58 Dalhousie St, Brantford
Subscribe to this Page