Healthy Kids Brantford and BIP invite families to celebrate culture through photo contest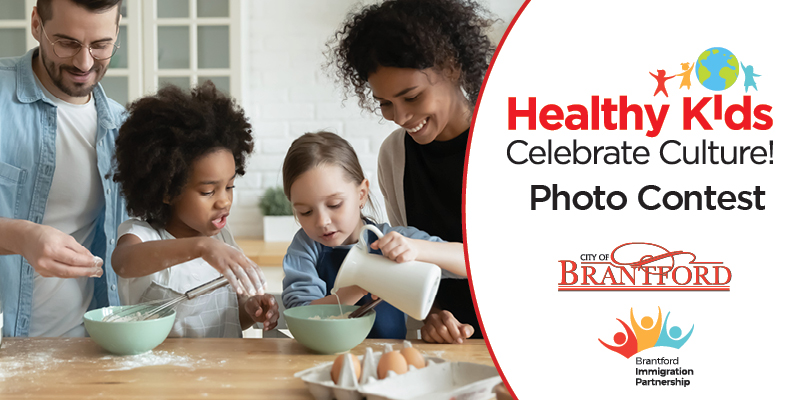 BRANTFORD, ON – The City of Brantford's Healthy Kids and Brantford Immigration Partnership (BIP) invites families to celebrate culture by submitting photographs of their family traditions throughout November and December for the chance to win a $25 Walmart gift card and prize pack each month.
"We are pleased to once again offer the Healthy Kids Celebrate Culture photo contest to engage kids through shared family traditions," says Bethany Letto, Community Development Coordinator, City of Brantford. "Preserving family history and values is a great way to celebrate culture and learn about the traditions of families throughout the City of Brantford."
A new photo contest will launch each month from November 7 until December 23, 2022. From November 7 to 25 share your favourite traditional family recipes and from December 5 to 23 share your favourite photo celebrating your family holiday traditions.
Visit Brantford.ca/CelebrateCulture for monthly contest information and details.
About Healthy Kids Brantford
Since 2015, the Passport to Health program has proven to be an effective way to successfully connect kids to discover new activities they may not have otherwise tried. The Healthy Kids program continues to demonstrate significant success in changing the culture of children's health within the community through innovative projects, partnerships and awareness campaigns. Parents whose children have participated in the Healthy Kids program reported improvements in their child's motivation to participate in physical activity, eat healthy foods, and drink more water.
About Brantford Immigration Partnership
The Brantford Immigration Partnership (BIP) is a dedicated group of community partners who are working to ensure that the City of Brantford continues to be a welcome and inclusive community for all. The BIP's overall goal is to see that all immigrants to our community feel a sense of belonging and are able to success and participate in the economic, social, civic, and cultural growth of our city.
- 30 -
Media Contact:
Kelly Page | Communications Specialist, Communications and Community Engagement
City of Brantford | 519-759-4150 ext. 5779 | kpage@brantford.ca
Heather Carvalho | Manager, Communications and Community Engagement
City of Brantford | 519-759-4150 ext. 5741 | hcarvalho@brantford.ca
Subscribe to this Page