Junior Chef Showdown Champion Audrey MacKinnon honoured at City Hall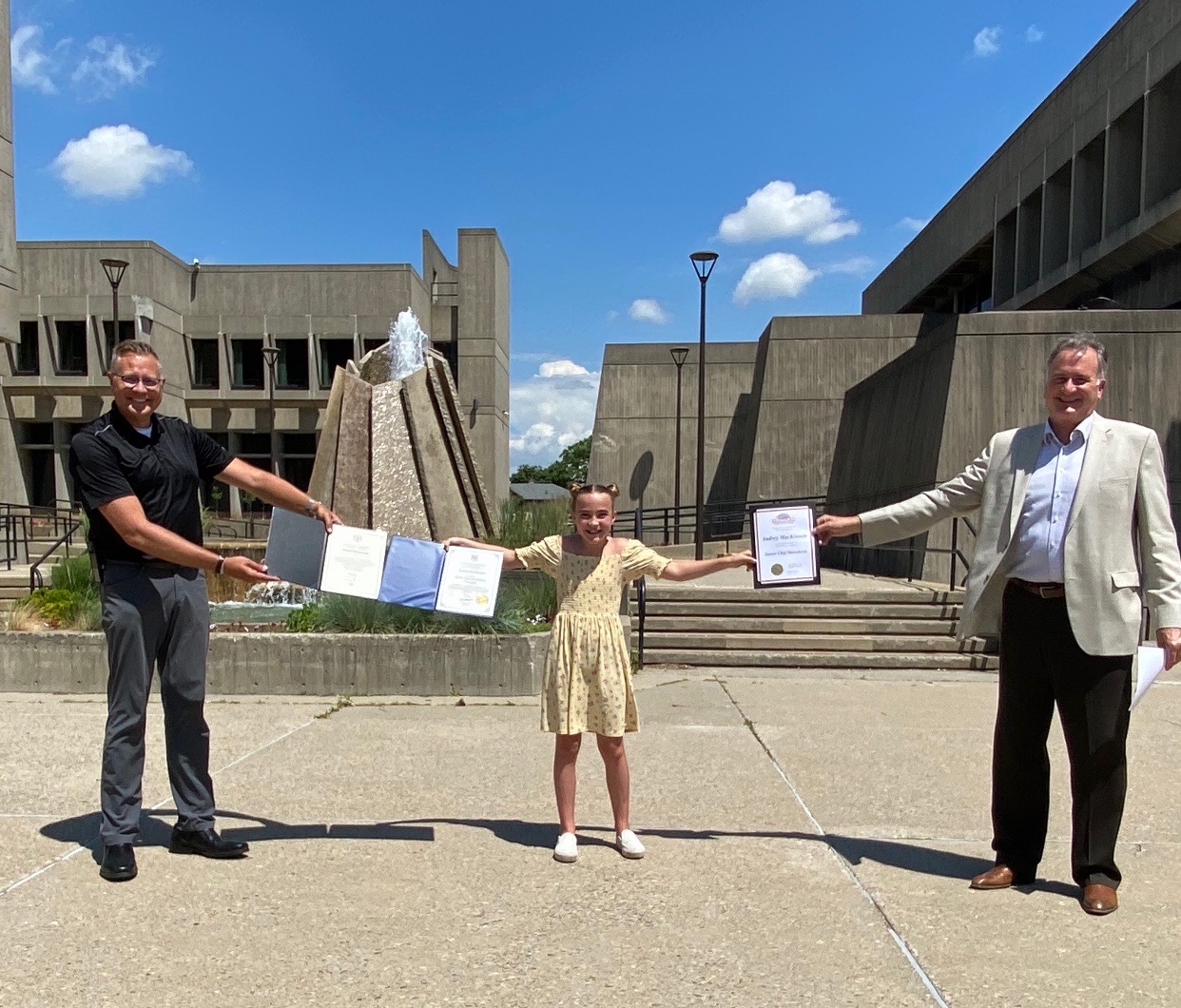 BRANTFORD, ON – Today, Brantford Mayor Kevin Davis was joined by Brantford-Brant MPP Will Bouma, outdoors at Brantford City Hall, to recognize and celebrate the recent achievement of 12-year old Brantford student, Audrey MacKinnon, who won the top prize on the Food Network television show, Junior Chef Showdown and the first ever title of Canada's Junior Chef Champion. To honour her significant accomplishment, MacKinnon also received a scroll of recognition from Ontario Premier Doug Ford, delivered by MPP Bouma. MP Phil McColeman also sent Audrey a scroll of achievement along with his congratulations.
A proud Brantford Ice Cat, MacKinnon has a passion for cooking that started at a young age. In the Food Network Canada Junior Chef competition, Audrey competed alongside 14 other talented young chefs between the ages of 9 and 13 from across Canada, and wowed the judges with her diverse international cuisine. During the show MacKinnon demonstrated exemplary skills that ranged from pancake stacking, to making hand-made pasta, and grilling – all with delicious results.
"Audrey was an absolute inspiration to watch and I couldn't be prouder of her hard work, good-hearted and friendly spirit, and tremendous skill!", says Mayor Kevin Davis. "Audrey's Wagyu Steak with Grilled Veggie Salad, Garlic Scape Pesto and Potato Crisps may have won the competition, but it was her passion that won our hearts! Bravo Chef Audrey! You make Brantford proud."
"It is very exciting to see talent from right here in Brantford rise to the top of the Junior Chef Showdown Championship", said Will Bouma, MPP for Brantford-Brant. "Audrey demonstrated exceptional skill through this Championship, and our community is very proud of her achievements."
Brantford-Brant MP Phil McColeman added, "I wish to offer my most sincere congratulations to Audrey. Our entire community is so proud of her. Her cooking skills along with her creativity and passion, took her to her ultimate victory, winning the top prize. She is extremely talented and a true inspiration."
In response, Audrey was very grateful for the special recognition today and said she "really appreciates her hometown's support and is proud to be an Ambassador for Brantford."
- 30 -
Media Contact:
Maria Visocchi Director, Communications and Community Engagement
City of Brantford | Office: 519.759.4150 Ext. 5754 | mvisocchi@brantford.ca
Subscribe to this Page