Margot & Paul Williamson Pavilion unveiled at Waterworks Park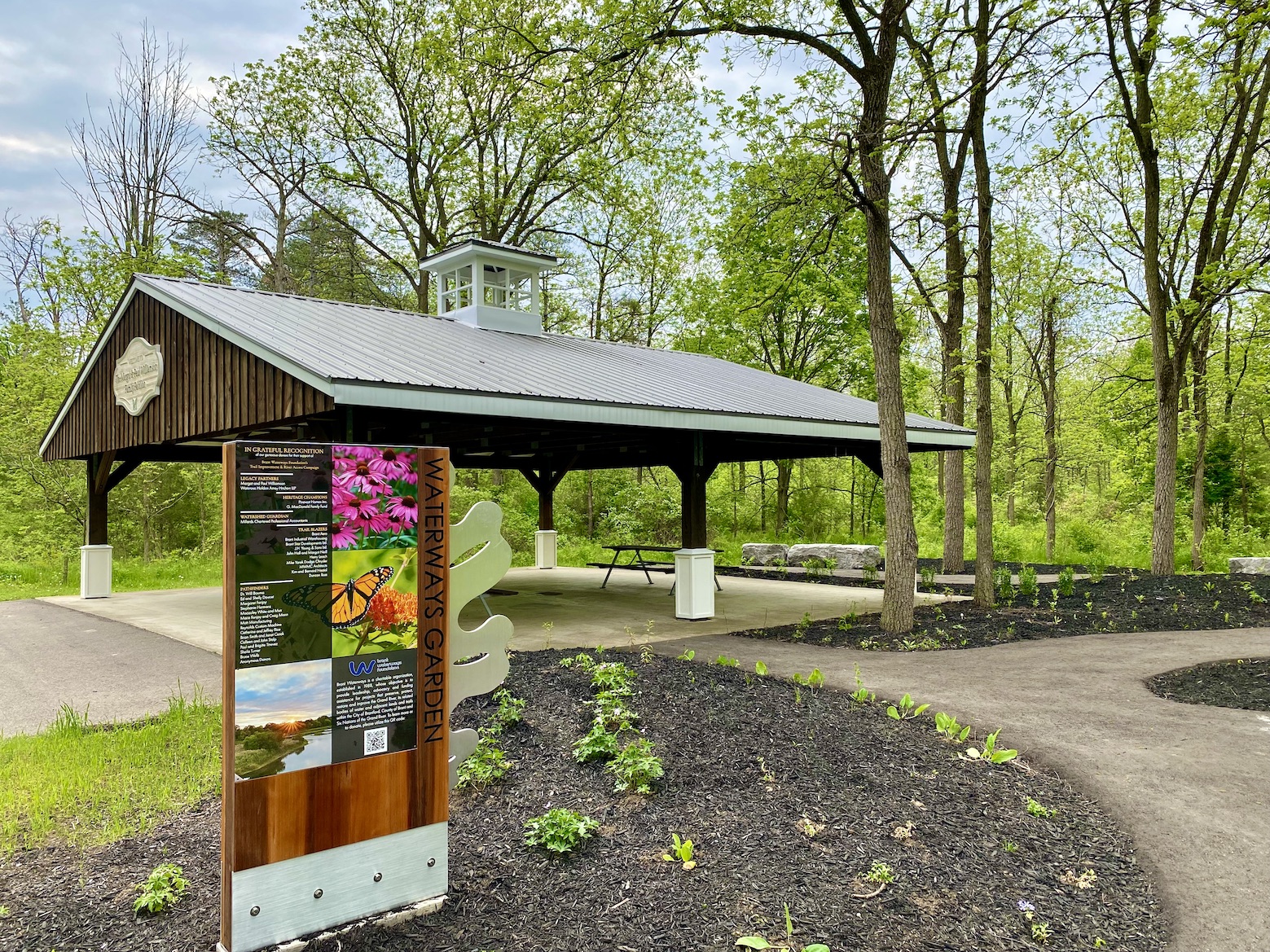 BRANTFORD, ON – As part of the Brant Waterways Foundation (BWF) Trail Improvement and River Access (TIRA) project, on July 25, 2023 representatives of BWF and the City of Brantford joined members of the Williamson family to officially open the new 'Margot & Paul Williamson Family Pavilion' at Rotary Centennial Waterworks Park (400 Grand River Avenue) in Brantford.
The event recognized the contribution of all TIRA donors with special honours to lead donors, Margot and Paul Williamson, and recognized the tremendous efforts of all who contributed to the significant enhancements made to this area of the park. Specifically, the pavilion roof was replaced and the architecture of the structure enhanced with the addition of a decorative cupola on the roof. Furthermore, the entire structure was re-stained and painted, resulting in a vibrant focal point for the new garden. Decorative column bases were also added, enhancing the pavilion's architectural appeal and creating a more visually striking space.
'Margot and Paul Williamson Family Pavilion' signage is featured prominently on the pavilion in recognition of the Williamson family's invaluable contributions to this project and their ongoing commitment to our community.
Another key feature of the TIRA Garden Construction Project is the new accessible asphalt pathway winding through the newly created garden beds. These garden beds have been specifically designed to be pollinator-friendly, using native plant species to attract and support local wildlife, such as bees and butterflies. By creating a habitat for these important pollinators, the project promotes biodiversity and contributes to the ecological well-being of our community.
Two new comfortable benches have also been strategically placed within the garden, providing visitors with a serene location to relax, unwind, and immerse themselves in nature's beauty. The benches offer an opportunity for contemplation, relaxation and reflection, encouraging individuals to connect with the natural surroundings and find solace in the garden's tranquility.
Quotes
"On behalf of Mayor Kevin Davis and the City of Brantford, we extend our sincere appreciation to the Brant Waterways Foundation for partnering with the City on this brilliant initiative that will undoubtedly enhance the quality of life for Brantford residents. We also want to thank Margot and Paul Williamson for their dedication to making a meaningful difference to our community and for their generosity. The TIRA Garden Construction Project has transformed this community space into a beautiful and inviting area for all to enjoy for decades to come."
- Councillor Dan McCreary, Acting Mayor, City of Brantford
"The Brant Waterways Foundation is extremely grateful for the generous support of our donors, and today we are excited to celebrate one of our lead donors of the TIRA Campaign – Margot and Paul Williamson. The Williamson's are pillars of our community and wholeheartedly embraced the vision crafted for the TIRA campaign, focusing on environmental stewardship of our natural assets within the Grand River watershed and outdoor recreational infrastructure. The Margot and Paul Williamson Family Pavilion reflects their passion for family and community in a beautiful setting at Rotary Centennial Waterworks Park and will be enjoyed by many for years to come. We are extremely appreciative of the Williamson's continued leadership and generosity."
- Duncan Ross, Brant Waterways Foundation
-30-
Media Contact:
Maria Visocchi, Director, Communications, Community Engagement & Customer Service
City of Brantford | City of Brantford | Office: 519.759.4150 Ext. 5754 | mvisocchi@brantford.ca

The City of Brantford Newsroom
Subscribe to News Alerts | City of Brantford Website | Privacy Policy
© City of Brantford, 58 Dalhousie Street, Brantford.
Subscribe to this Page