Mayor Kevin Davis announces he is undergoing Kidney Procedure at the Kidney Walk -Brantford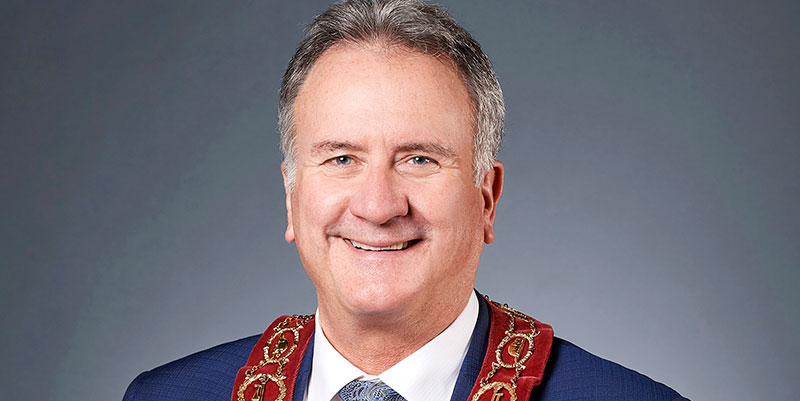 Brantford, ON – Today, Mayor Kevin Davis addressed participants and supporters of the Kidney Walk – Brantford at Harmony Square and told them that this event was deeply personal to him, as a biopsy result he received on Friday, September 20th confirmed that Mayor Davis has been diagnosed with stage 1 renal cell carcinoma, a form of kidney cancer. Mayor Davis has no symptoms as the cancer was first detected in an MRI done in early July for an unrelated lower back issue.
In his remarks the Mayor talked about how Kidney Walks across the country are the cornerstone of the Kidney Foundation of Canada's fundraising efforts as well as a time to stand together, united in an effort to support loved ones with kidney disease. "I am so grateful to all those who raise and donate funds for innovative lifesaving research, vital programs, and services that support people, living with kidney disease", the Mayor said.
"I am making my diagnosis public today in the interest of transparency and to raise awareness about early detection. While a cancer diagnosis is not something anyone wants or expects to hear, I am so fortunate it was detected early, and as a result, my prognosis is very good. I am also grateful to have a great support group around me of family and friends and excellent doctors who tell me that I will be able to resume my duties as Mayor soon after surgery next month and a brief recovery."
While it is not expected that the Mayor will require other forms of treatment, he will undergo laparoscopic surgery to remove his right kidney on October 22nd, 2019, followed by a 3-6 week recovery period. "My doctors assure me the procedure is simple and routine and, because of early detection, the long term prognosis is excellent with a success rate of 95%".
"Being Brantford's Mayor is the honour of my life and I want to assure the community that my and Council's focus will remain on the City's priorities. While I am recovering from surgery, I have every confidence in the Mayor Designate that will soon be appointed to assume my responsibilities during my absence and other Council members who will be available to attend events and appointments in my place."
The Mayor also confirmed that he feels well and it is business as usual as he continues to perform his City Council duties and responsibilities until his surgery date which includes hosting his first Mayor's Gala on Saturday, October 19, 2019. He also thanked the community in advance for their support and understanding.
Mayor Davis said in closing "I really can't emphasize enough the importance of early detection."
Mayor Kevin Davis was elected as the 50th Mayor of the City of Brantford on October 22, 2018. Mayor Davis and his wife Lisa have three daughters, Kate Durand, Melanie Samuel and Brittany MacGregor. He is the proud grandfather of four grandchildren - Warren and Piers Durand and Austin and Payton Samuel.
-30-
Media Contact:
Maria Visocchi, Director
Communications and Community Engagement |
City of Brantford |
Office: 519.759.4150 Ext. 5754 | mvisocchi@brantford.ca
Subscribe to this Page