Municipalities invite public engagement and feedback on potential energy merger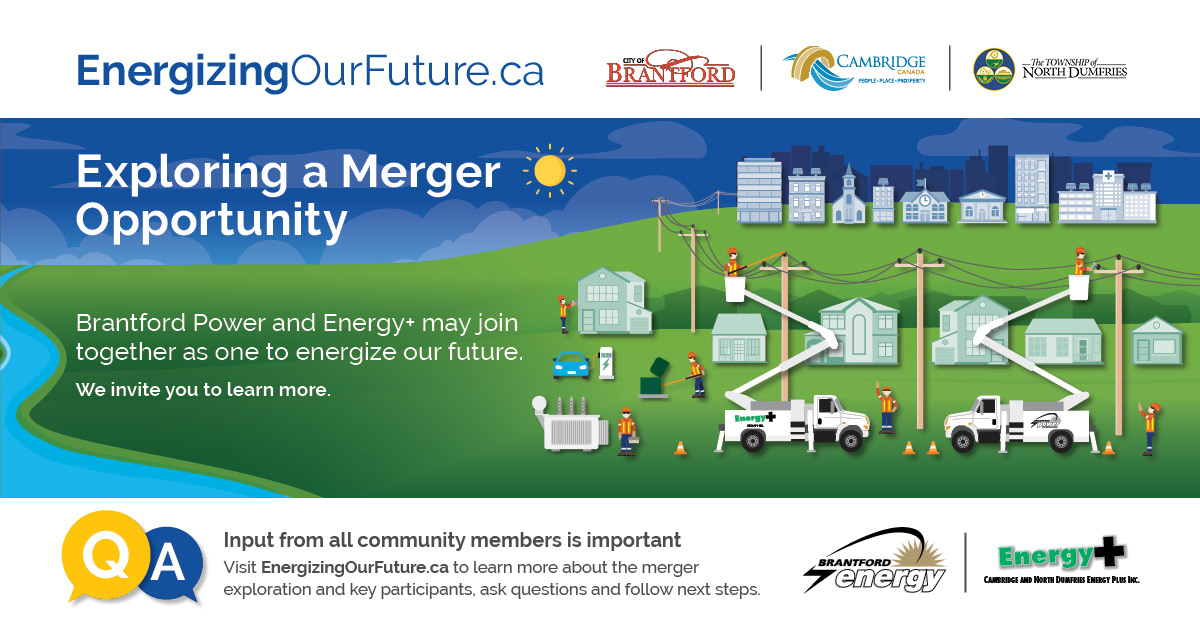 Cambridge, North Dumfries and Brantford, ON (June 24, 2021) – Councils for the City of Cambridge, the Township of North Dumfries, and the City of Brantford have completed their independent reviews on a possible merger framework between Energy+ Inc. and Brantford Power Inc. The next step in the merger exploration process is to collect community -wide input and feedback.
Brantford Energy Corporation and its affiliates are 100% owned by the City of Brantford. Cambridge and North Dumfries Energy Plus Inc. and its affiliates are jointly owned by the City of Cambridge (92.1%) and the Township of North Dumfries (7.9%).
A centralized website EnergizingOurFuture.ca has been developed for utility customers to learn more about the potential merger, ask questions, and provide feedback about the future of the local hydro companies. Public input and feedback will be gathered over the next four weeks and shared with municipal Councils to help inform decisions moving forward.
Details about the proposed merger are also available at:
Brantford Power and Energy+ will also reach out directly to their customers in several ways to invite them to learn more and ask questions.
After the engagement process is completed, the City of Brantford, the City of Cambridge and the Township of North Dumfries will hold public Council meetings to review detailed staff reports, legal agreements and community feedback on the merger.
Each municipality will pass in-Council motions at these public meetings to decide whether or not to proceed to the next stage. A decision to merge will require final approval by all shareholders and the Ontario Energy Board.
The provincial government has encouraged the consolidation of local electricity distribution companies in Ontario with the objectives of increased industry efficiencies, reductions of costs, and securing competitive distribution rates for customers. The municipalities are committed to ensuring a high level of customer service, innovation and continued local ownership and community presence.
-30-
Primary Media Contacts:
City of Brantford
Maria Visocchi
mvisocchi@brantford.ca


City of Cambridge
Susanne Hiller
hillers@cambridge.ca


Township of North Dumfries
Andrew McNeely
amcneely@northdumfries.ca
Subscribe to this Page