Namesake unveils new Walter Gretzky Municipal Golf Course logo in Brantford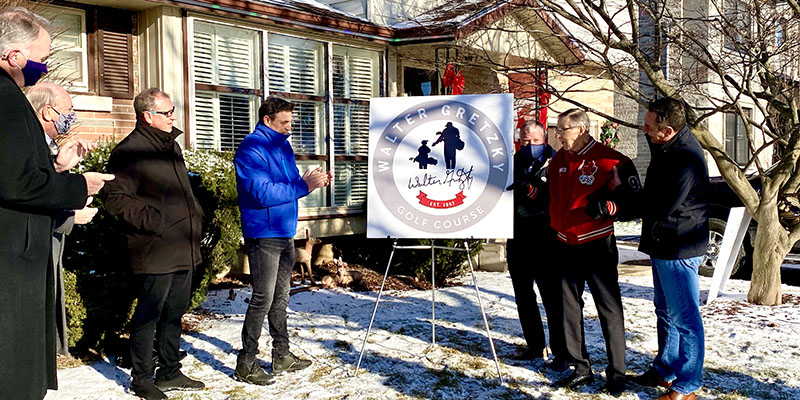 BRANTFORD, ON – Affectionately known as the world's most famous hockey Dad, in his hometown of Brantford, Ontario, Walter Gretzky is known as a beloved neighbour and member of the community who has selflessly dedicated countless hours to coaching youth and supporting local charities. Walter is also known for his passion for golf with the first-ever Walter Gretzky CNIB Golf Tournament held in Brantford in1995 and eventually held in eight cities across Canada.
For his many contributions to better his community, Walter has received an honorary doctor of letters from Wilfrid Laurier University (2014), the Order of Canada (2007), an honorary degree from Nipissing Brantford (2006), the Brantford Citizen of the Year award (1996), and an honorary doctor of laws from McMaster University (2001) all in recognition of his commitment to aiding others, especially youth. Walter is also an inductee of Brantford's "Walk of Fame" and has published two successful books: From the Backyard Rink to the Stanley Cup and Walter Gretzky: On Family, Hockey and Healing.
Today, the City of Brantford is tremendously proud to add another honour to that list by officially renaming the Northridge Municipal Golf Course as the Walter Gretzky Municipal Golf Course, Banquet and Learning Centre.
Established in 1957, the course sits on 144 acres of land in the north end of the city. In recent years, the course has undergone significant upgrades including the addition of a full-size practice range, new pro shop, new maintenance shop and most recently, a new clubhouse featuring a full-size banquet room, commercial kitchen, members lounge and wrap around outdoor patio overlooking the course.
The new Walter Gretzky Golf Course logo, unveiled by Walter and his sons Glen, Keith and Brent at their family home in Brantford today, features a silhouette of a father and son/coach and student on the golf course, appropriately depicting Walter's altruistic spirit and commitment to mentoring future leaders of the game. Beginning in the 2021 golf season, the new logo will be used on all official course signage and merchandise.
When told at this morning's unveiling how proud the City is to honour him this way Walter replied, "I'm the one that is proud."
Quotes
"I love golf almost as much as I love hockey so this is a real honour. Brantford is home and one of my greatest joys is spending time at this course. So, my family and I were delighted when the City approached us with the idea to rename the course and are really pleased with the new logo. It will take some getting used to calling it by its new name, but I hope it sticks."
– City of Brantford Lord Mayor, Walter Gretzky
"Walter is not only a beloved father, friend, mentor and neighbour, he is also our beloved Lord Mayor and an outstanding ambassador for our community. To show our deep respect and appreciation for everything Walter means to our city, we are so proud to honour him and celebrate his love of the golf course that now bears his name. We can't think of a more appropriate namesake for the course than someone who has brought so much joy to others by his presence there."
– City of Brantford Mayor, Kevin Davis
"As our city's Lord Mayor, worldwide ambassador of hockey, the world's most famous hockey Dad and coiner of the phrase 'Brantford…The Center of the Universe' my ward mate Councillor Sless and I felt it long overdue to honour our friend Walter Gretzky by renaming one of his favourite places in Brantford in his name. Our thanks to Walter and the Gretzky family and to our fellow members of Council who unanimously supported honouring Walter in this special way."
– Ward 2 Councillor John Utley
"On behalf of Golf Operations, I want to say how proud we are to now officially represent the Walter Gretzky Municipal Golf Course Banquet and Learning Centre. I have long said that the greatest thing about the game of golf is the people that you meet along the way. Having had the distinguished privilege to know Mr. Gretzky for over 25 years, I cannot think of a more deserving ambassador and namesake for municipal golf in the City of Brantford."
– Jeff Moore, Manager, City of Brantford Golf Operations
PHOTO CAPTION:
Pictured from left to right in photo above: Brantford Mayor Kevin Davis, Brantford Ward 2 Councillor John Sless, Keith Gretzky, Glen Gretzky, Brantford Ward 2 Councillor John Utley, Walter Gretzky, and Brent Gretzky at the Gretzky family home in Brantford, Ontario.
-30-

Media Contact:
Maria Visocchi Director, Communications and Community Engagement
City of Brantford | Office: 519.759.4150 Ext. 5754 | mvisocchi@brantford.ca
Subscribe to this Page