New CASE home affordable housing demonstration project completed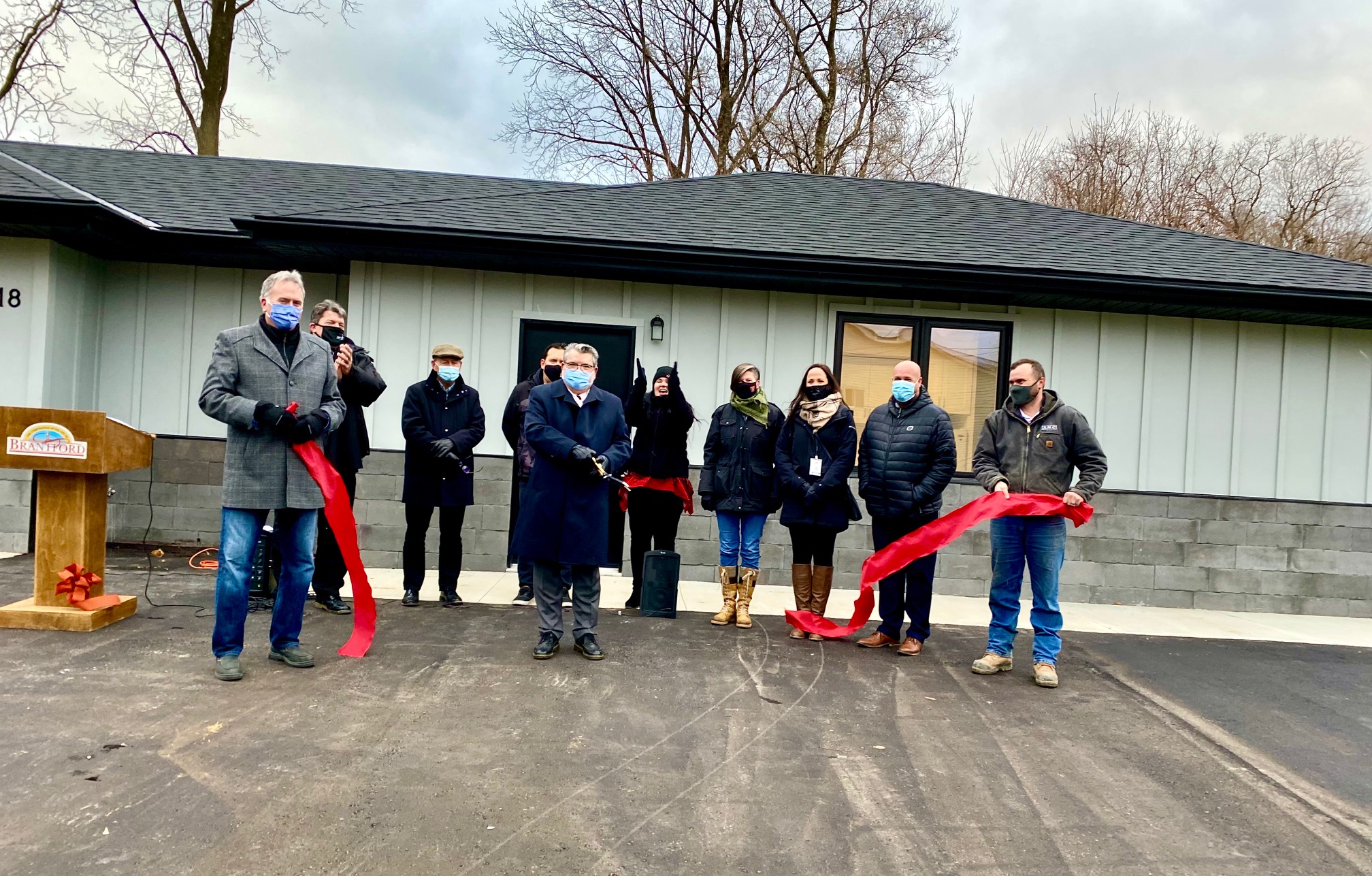 BRANTFORD, ON – Today, both Mayors along with Housing staff and members of the Social Services Committee from the County of Brant and the City of Brantford celebrated the completion of the first CASE home project - one of the first of many projects being implemented to achieve the deliverables set out in the Mayors' Housing Partnerships Task Force Affordable Housing Action Plan.
The acute need for more affordable housing, and the positive impact this stability has on people's lives cannot be understated. Clearly, need has never been greater, made even more acute by impacts of the COVID-19 pandemic. At present, there are over 1,700 households on the community housing waitlist, whereby new non-senior applicants, with no dependents, have a wait of between eight and 12 years, and account for nearly 40 per cent of applicants.
Earlier this year, City of Brantford Mayor Kevin Davis and County of Brant Mayor David Bailey convened the Mayors' Housing Partnerships Task Force, with the goal to build partnerships to create more housing options in the community as quickly as possible. The Task Force created project teams to address three key objectives: discover the opportunities; work together; and, make development easier.
An efficient and effective solution, the Compact, Affordable, Sustainable and Efficient (CASE) Home Demonstration Project encourages alternative or creative construction and building practices to help achieve low construction costs and expedite the building process.
The CASE Home Demonstration Project at 18 Stirton Ave has been built on part of the City-owned property extending from Gilkison to the corner of Stinson and Stirton Avenues.
Quotes
"The timely and desperate need for affordable quality housing has required some out-of-the-box thinking. I congratulate our communities for working together to find innovative solutions to this growing issue. We are incredibly thankful for all those involved who believe in making a positive impact and have the vision to make new and affordable housing a reality." ~ Mayor David Bailey, County of Brant

"Having a place to call home serves as a foundation for individuals to pursue personal goals and improve their quality of life. What we celebrate today is the resiliency of our communities to find and build solutions together. Today we're seeing innovation in action – built faster than traditional buildings and more cost effectively. I'm encouraged to see ideas like this implemented and pleased that a local homebuilder, Brantford General Contractor and Real Estate Developer, ANC stepped up to support this effort."
~ Brantford Mayor Kevin Davis


- 30 - 

Media Contact: 

Maria Visocchi Director, Communications and Community Engagement
City of Brantford | Office: 519.759.4150 Ext. 5754 | mvisocchi@brantford.ca
View The City of Brantford Newsroom
Subscribe to News Alerts | City of Brantford Website | Privacy Policy
© City of Brantford, 58 Dalhousie St, Brantford
Subscribe to this Page