New technology enhances accessibility in Brantford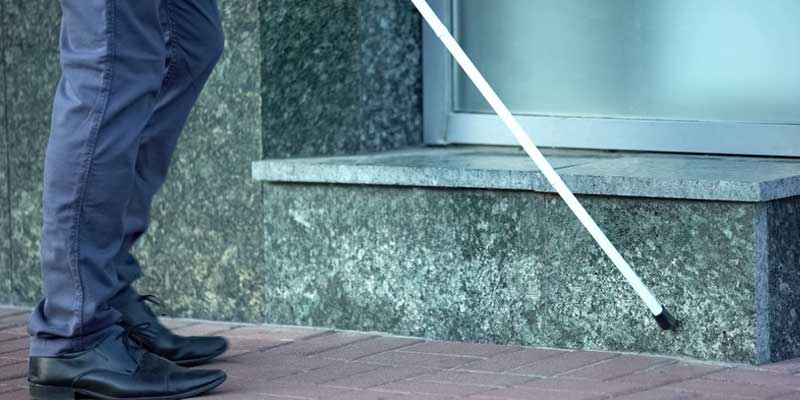 Brantford, ON – The City of Brantford, in partnership with the CNIB Foundation, is participating in an innovative project that uses wayfinding technology to improve accessibility for people who are blind or partially sighted.
The No Dark Doors project is designed to transform Brantford into a beacon of accessibility and inclusion, where everyone can live, work and play without barriers. The CNIB Foundation has programmed and installed small battery-powered beacons throughout the City. The beacons work in tandem with BlindSquare, a smartphone app, to provide navigational information about the layout of the space, such as the washrooms are located at three o'clock. The beacon then silently 'communicates' with the app through Bluetooth signals.
"CNIB's goal is to create a better Canada – a barrier-free Canada – where everyone can fully participate in the world around them," says Robert Gaunt, Executive Director, CNIB Foundation Ontario North and West. "Thanks to the City of Brantford's leadership, this initiative will provide an opportunity for a wider conversation about accessibility and inclusion, as residents and visitors learn how technology can level the playing field for people with sight loss."
According to the Canadian Survey on Disabilities 2017, 1.5 million Canadians identify as having sight loss. Nearly 14% of Canadians 65 or older – a figure that will double in the next 25 years – have experienced sight loss. It is projected that within the next 20 years, more than one quarter of Brantford residents will be 65 or older.
"We are thrilled to partner with the CNIB Foundation to bring the No Dark Doors project to Brantford," says Jenny Sawicki, Municipal Accessibility Plan Coordinator, City of Brantford. "Eliminating barriers is a key part of the City's Accessibility Plan that aims to provide access for all residents to a full range of health and community services."
The beacons can be found at the following City locations:
Brantford Civic Centre, 79 Market St. S, Brantford
City Hall, 100 Wellington Sq., Brantford
Farmers Market, 79 Icomm Dr., Brantford
Sanderson Centre, 88 Dalhousie St., Brantford
Transit terminal, 64 Darling St., Brantford
Wayne Gretzky Sports Centre, 254 N Park St., Brantford
The Best Western Brantford Hotel and Conference Centre located at 19 Holiday Dr., Brantford, has also installed BlindSquare. If you'd like a beacon for your business, please contact: Larissa Proctor, Program Lead, Advocacy & Accessible Communities at Larissa.Proctor@cnib.ca or 226-920-5498.
The BlindSquare Event app is available in several languages as a free download from the Apple App Store. Please visit blindsquare.com to learn more about BlindSquare.
-30-
Media Contacts:
Kelly Page
Communications Specialist, Communications and Community Engagement
City of Brantford Office: 519.759.4150 Ext. 5741 | kpage@brantford.ca
Karin McArthur
Lead, Marketing & Communications
CNIB Foundation Ontario 437-922-7353 | Karin.McArthur@cnib.ca
Subscribe to this Page