Public Notice - Winter Storm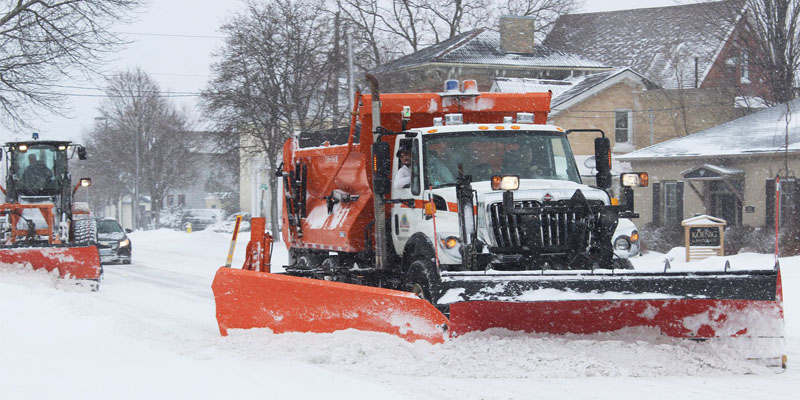 The City of Brantford is anticipating a significant winter storm today, November 11, 2019 and is issuing a storm advisory warning to all motorists. Drivers please use extreme caution while operating your vehicles to ensure you get to your destination safely. Parking your vehicle in driveways, both during the day and overnight will greatly improve the ability to provide effective snow removal operations. Please stay well back from snow removal equipment and give these operators the room need to safely perform their difficult task.
While City Hall is closed today to observe Remembrance Day, Winter Operations crews are actively working throughout the storm and the City's Health and Human Services department at 220 Colborne is open during regular business hours today. For any urgent inquiries related to the winter storm today, the City can be reached at 519-759-3330.
The current forecast calls for snow accumulations could range between 10 to 15 cm by tonight, accumulating at a rate of approximately one (1) cm per hour. Temperatures are to remain below freezing during the night and into tomorrow morning, resulting in roads, sidewalks, and bicycle lanes that are likely to be slippery. Temperatures are expected to remain low for the next few days. As a result of these conditions, we suggest that residents minimize or eliminate their walking and driving activities overnight and into tomorrow. This will allow staff and contracted services time to respond to the conditions.
Again we strongly encourage residents to please park their vehicles off the street whenever possible during the event. This will allow City plow trucks to service roadways, sidewalks and bicycle lanes more effectively, especially in residential areas. In addition, we advise that when residents are shoveling their sidewalks that they place snow in the same direction that the plow travels. In general, that will be to the right of the driveway when looking the out the front door of the home.
Subscribe to this Page