Seniors Tech Fair supports City's Healthy Aging Plan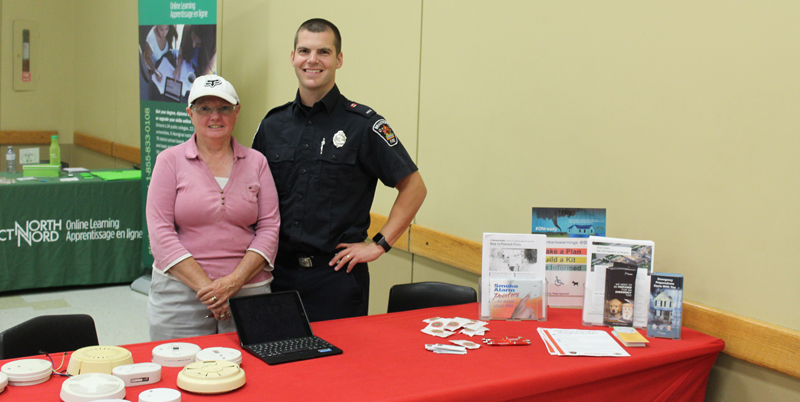 BRANTFORD, ON – City of Brantford, in partnership with the Grand River Council on Aging, and other local service providers, are hosting drop-in workshops to teach seniors how technology can improve quality of life and assist with everyday activities.
Last month, the City hosted its first Seniors Tech Fair where more than sixty seniors learned how technology can be used through various workshops hosted by community partners, which included:
How to use social media to access the Brantford Fire Department's emergency information and smoke detector requirements
Tablet, iPad, and laptop demonstrations by Brant Skills Centre
Interactive displays of the Brantford Public Library's portable green screen and Virtual Reality devices
How to access health information and track physical activity by Grand River Community Health Centre, PACE Program
How to explore educational opportunities online with Contact North
The Seniors Tech Fairs support the City's Healthy Aging Plan, which focuses on providing opportunities for seniors to participate in the community. Within the next 20 years, more than one quarter of Brantford residents will be age 65 or older.
"We remain committed to connecting seniors with the programming and services they need to thrive in our community", said Gagan Batra, Community Development Coordinator, City of Brantford.
Don't miss the opportunity to participate in the next Seniors Tech Fair:
Holmedale Neighbourhood Wednesday, September 25, 2019 1:00 pm to 4:00 pm TB Costain-SC Johnson Community Centre 16 Morrell St., Brantford
Exhibitors will include Vision Loss Rehab, the Canadian Hearing Society, Business Resource Centre, and the City of Brantford Communications Department. Everyone is welcome to attend. No registration is required. For more information, please contact the City at 519-759-3330 ext. 6279.
-30-
Media Contact:
Kelly Page, Communications Specialist, Communications and Community Engagement |
City of Brantford | Office: 519.759.4150 Ext. 5741 | kpage@brantford.ca
Subscribe to this Page