Temporary road and trail closures for the Wayne Gretzky Parkway Pedestrian Bridge project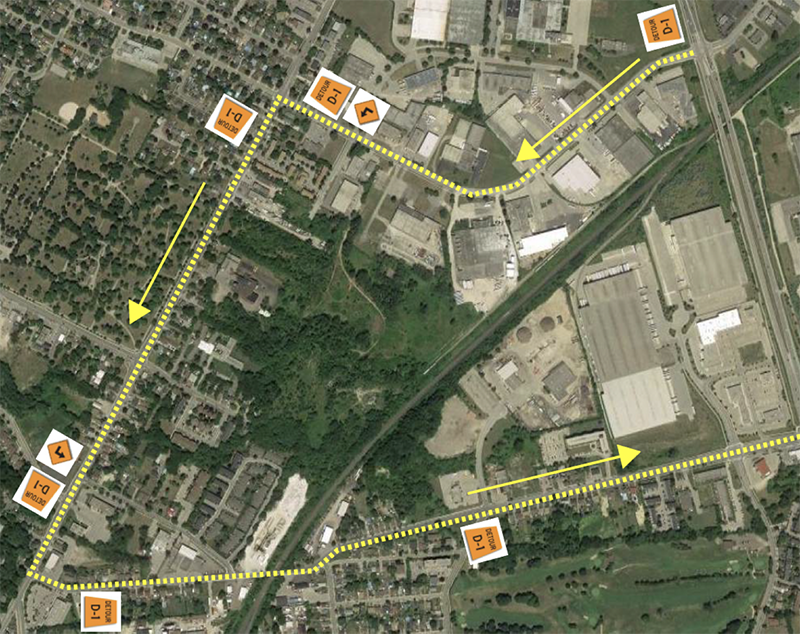 BRANTFORD, ON – In the next stages of the Wayne Gretzky Parkway Pedestrian Bridge Rehabilitation project, construction is set to commence, upgrading this vital link over the Canadian National Railway (CNR) tracks that connect Morton Avenue E and Henry Street.
Construction is scheduled to begin on December 4, 2023, and conclude on or before January 18, 2024, subject to CNR flagging availability. This targeted timeline reflects our commitment to this key initiative, aiming to enhance safety and accessibility in our community.
Recognizing the impact on commuters and trail enthusiasts, the rehabilitation plan involves temporary closures. On December 4, 2023, from 7:00 p.m. to 7:00 a.m., the southbound lanes of Wayne Gretzky Parkway, between Morton Avenue E and Henry Street, will experience a brief closure for lifting and transporting the bridge superstructure to an off-site location, where rehabilitation work will be performed in a controlled environment. All lanes of traffic in the southbound direction will be opened once the bridge is removed.
The trail that utilizes this bridge will also be closed for the duration of the bridge removal, as well as one to two days following. This closure is to facilitate the bridge removal and installation of a trail detour. Trail users can expect this detour along the southbound Wayne Gretzky Parkway Bridge shoulder to be in place during the bridge's off-site rehabilitation. We anticipate the trail detour will be in place for approximately 6 to 7 weeks. Trail users are requested to plan accordingly during this trail closure.
In January 2024, additional temporary road and trail closures will be announced for the bridge's return to its original location.
Our commitment to you
We understand the inconvenience these temporary closures may pose and sincerely appreciate the public's understanding and patience. The City of Brantford remains dedicated to enhancing our infrastructure for the benefit of all residents. This transformative rehabilitation ensures not only the safety of the Wayne Gretzky Parkway Pedestrian Bridge but also contributes to the ongoing improvement of our community.
Thank you for your cooperation as we work to build a better Brantford.
-30-
The City of Brantford Newsroom
Subscribe to News Alerts | City of Brantford Website | Privacy Policy
© City of Brantford, 58 Dalhousie Street, Brantford.
Subscribe to this Page