City celebrates National Youth Week with free activities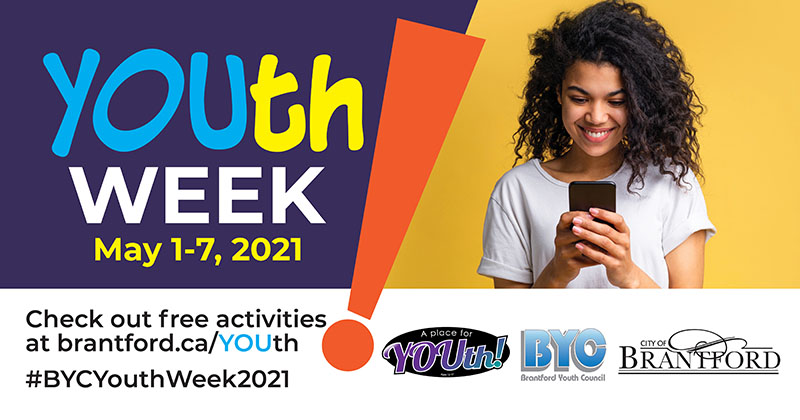 BRANTFORD, ON – The City of Brantford joins communities across Canada to celebrate National Youth Week from May 1 to 7, 2021. Brantford Youth Council (BYC), in partnership with the city, are pleased to offer free, fun and engaging virtual activities for youth aged 12 to 17 years, with daily prizes and a grand prize draw for a $50 iTunes gift card for participating.
"We want to recognize our youth for the meaningful contributions they make to our community," says Kim Rolson, Community Recreation Supervisor, City of Brantford. "Our free virtual events allow youth to connect with others and have fun in a safe way."
Brantford youth are invited to join Virtual Origami, Mud Cake Madness, Trivia and more on facebook.com/BrantfordYouthCouncil or instagram.com/BrantfordYouthCouncil. Participants will have their name automatically entered into a draw for each event joined and the grand prize draw which will take place live at 12:00 p.m. on Friday, May 7. A full list of activity details can be found at brantford.ca/YOUth.
The City of Brantford, a designated Youth-Friendly Community, works to ensure youth have access to a diversity of opportunities, including sport, recreation, arts, volunteerism, leadership development, and civic engagement.
- 30 -
Media Contact:
Sharon Sayles | Communications Specialist, Communications and Community Engagement
City of Brantford | 519-757-2840 | ssayles@brantford.ca
Subscribe to this Page