City invites residents of all ages to Learn Together through free monthly programs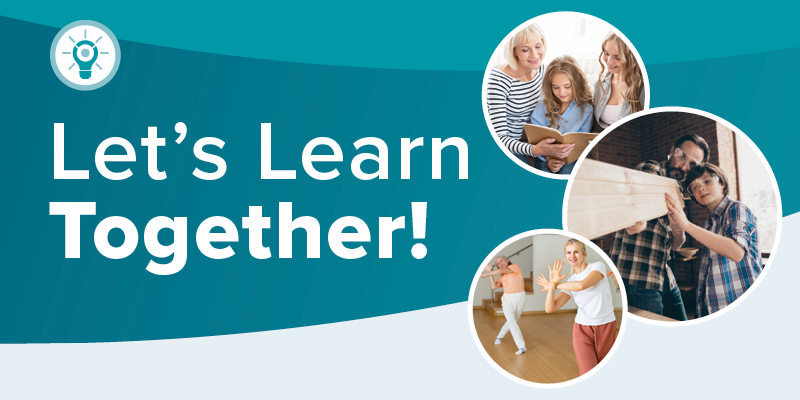 BRANTFORD, ON – The City of Brantford is pleased to announce the Let's Learn Together series that provides free monthly pop-up programs at various city facilities in 2023 to encourage participants to build new skills and develop personal connections with other residents from different generations.
"We are thrilled to partner with local community partners and talented community members to deliver unique programming that will provide an opportunity to form new social connections and learn new skills," says City of Brantford Mayor, Kevin Davis. "These events will include fun, hands-on learning activities for residents of all ages."
Participation in intergenerational programs and meaningful cross-age relationships may decrease social isolation and increase older adults' sense of belonging, self-esteem, and well-being, while also improving social and emotional skills of children and youth participants. The activities planned for January, February, and March, 2023 include scrapbooking, woodworking, and dance fit.
The Let's Learn Scrapbooking Together, offered in partnership with The Scrapbook Guru Heather Miller, will take place on Saturday, January 21 at Woodman Park Community Centre (491 Grey St) from 10 a.m. to 1:30 p.m. The class will include a 3-hour hands-on tutorial where participants will be put into multi-generational working groups. Participants will receive a free set of basic paper-crafting supplies to create a beautiful mini album to showcase their Brantford memories. Light snacks and refreshments will be provided. This event is open to youth ages 7 years and older.
At the Let's Learn Woodworking Together event happening Saturday, February 18 from 12 p.m. to 4 p.m. at TB Costain- SC Johnson Community Center (16 Morrell St), grandparents and guardians are invited to bring their grandchildren and children ages 12 years and older to collaborate on a woodworking project. Organized Khaos will provide instructions and support to learn woodworking, while families will get to work together to create a take-home step stool that can be customized for each individual family. Lunch will be provided at 12:00 p.m.
Let's Learn Dance Fit Together, offered in partnership with Wayne Gretzky Sports Centre, invites all ages join us for an introductory dance fit class on Wednesday, March 15 from 1:30 p.m. to 2:30 p.m. and Friday, March 17 from 1:30 p.m. to 2:30 p.m. in the main floor studio at the Wayne Gretzky Sports Centre (254 N Park St). This multi-generation Dance Fit class will teach participants about the connection between physical activity and dancing, while having the opportunity to engage with other participants from various generations. No experience is necessary. Refreshments and Light Snacks will be provided.
Limited space is available for each program and registration is required by calling 519-759-4150 ext. 6407 or emailing partnerships@brantford.ca. To learn more visit Brantford.ca/LearnTogether or give our Customer Service team a call at 519-759-4150. You can also follow the City's Facebook, Instagram and Twitter pages for more information.
This program is funded in part by the Government of Canada's New Horizons for Seniors Program and is a key part of the City's Healthy Aging Plan and Empowering Youth Strategy, that includes expanding access to social programing through various neighbourhood hubs and associations, and enhancing recreation at community centers throughout the City of Brantford. Additionally, the City's Healthy Aging Plan prioritizes programming that supports the development of intergenerational social connections which creates an inclusive community where residents of all ages can thrive.
- 30 -
Media Contact:
Kelly Page | Communications Specialist, Communications and Community Engagement
City of Brantford | 519-759-4150 ext. 5779 | kpage@brantford.ca
Subscribe to this Page