City of Brantford prepares to launch new Green Bin program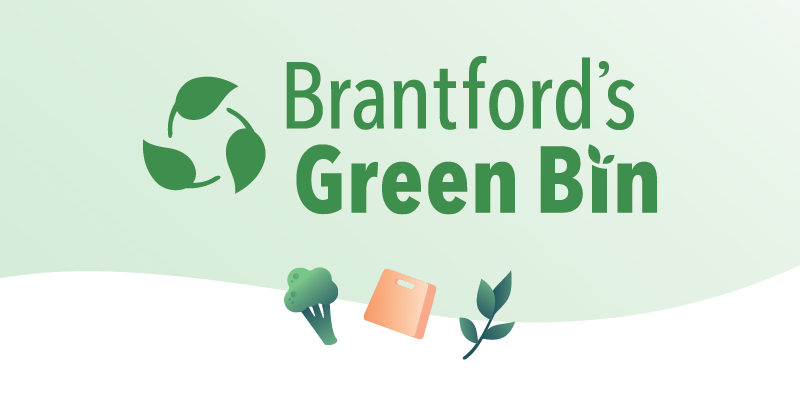 BRANTFORD, ON – The City of Brantford is thrilled to announce a major step forward in Council's commitment to environmental sustainability with the launch of the Green Bin program. Starting September 13, 2023, the City will begin delivering green bins and kitchen catchers to residents, along with information about the program, a list of accepted and unacceptable items, and helpful tips. While the roll out of bins begins on September 13, the City expects that all households with curbside collection will receive their green bin and kitchen catcher by October 20, 2023.

Green Bin Collection begins November 1, 2023
The first collection date for the Brantford Green Bin program will be Wednesday, November 1, 2023. Green Bin organic waste will be collected on the same day as garbage and recycling collection. To learn what goes in the green bin, including food waste, paper fiber and other compostable items, please visit www.Brantford.ca/GreenBin.
"The Green Bin program is a testament to our commitment to environmental stewardship," says City of Brantford Mayor Kevin Davis. "We believe that small individual actions, when multipled across our community, can have a tremendous impact on our environment. By introducing this program, we are taking a significant step towards a greener and more sustainable future for Brantford."
Roughly, 35,000 homes in Brantford will soon be diverting organic waste from the landfill site. By participating in the Green Bin program, residents' household organic waste will be made into nutrient-rich compost, reducing the amount of waste that ends up at the City's Mohawk Street landfill. This will decrease greenhouse gas emissions and help the City of Brantford reach our ultimate goal of Zero Waste and 70% diversion by 2050.
Green Bin Open Houses
The City will be hosting a number of Ward open houses in September where residents can learn more about the Green Bin program and have their questions answered by City of Brantford staff. Registration is not required for these meetings:
Ward 1 – Thursday, September 14, drop-in from 6 p.m. to 8 p.m., Bell Homestead NHS, 94 Tutela Heights Road
Ward 2 – Tuesday, September 19, drop-in from 6 p.m. to 8 p.m., TB Costain-SC Johnson Community Centre, 16 Morrell Street
Ward 3 – Thursday, September 28, drop-in from from 6 p.m. to 8 p.m., Wayne Gretzky Sports Centre – Tournament Room, 254 North Park Street
Ward 4 – Wednesday, September 27, drop-in from 6 p.m. to 8 p.m., Woodman Park Community Centre, 491 Grey Street
Ward 5 – Thursday, September 21, drop-in from 6 p.m. to 8 p.m., Doug Snooks Eagle Place Community Centre, 333 Erie Avenue
For more information about Brantford's Green Bin program, visit Brantford.ca/GreenBin or contact us at 519-759-4150.
-30-
Media Contact:
Chelsey Tobin | Communications Specialist, Communications and Community Engagement
City of Brantford | 519-759-4150 ext. 5048 | ctobin@brantford.ca
Subscribe to this Page