City to begin construction of new and improved Dufferin Park this fall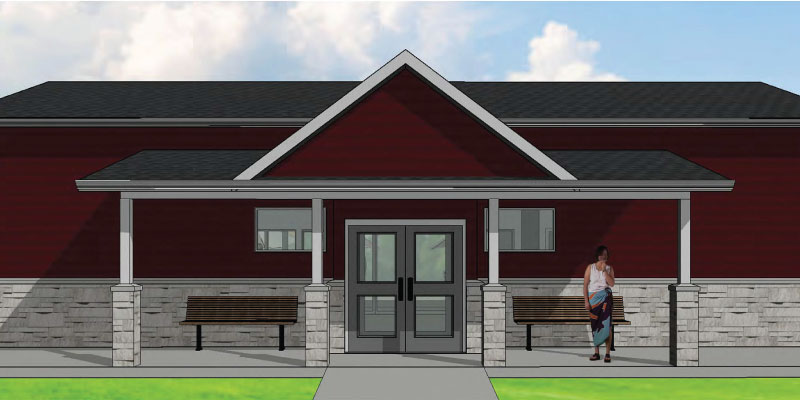 BRANTFORD, ON – The City of Brantford is very excited to share that construction of the Dufferin Park Redevelopment at 164 St. Paul Avenue will begin this fall. The new Dufferin Park Plan is intended to be more inclusive and appeal to a wider range of interests and activities.

Residents can look forward to new and improved Dufferin Park amenities that will include:
Six new tennis courts with lighting and access to shade structures
An asphalt multi-use area including a basketball court
A play area and shade structure
A modern new central public building with an eating area, storage and washrooms
New parking lot with accessible spaces and drop-off area
Paved trails
Enhanced landscaping
The new one thousand square foot Dufferin Park public building will be centrally located within the park, and will feature a covered entryway, meeting space with a food preparation counter, a back veranda with patio space for outdoor activities and events, a new storage room and accessible and universal public washrooms. The modern new public building will also be available to rent for community/group events.
Furthermore, design funding was approved for lawn bowling to be relocated to the Walter Gretzky Municipal Golf Course and Learning Centre at 320 Balmoral Avenue, now featuring a recently built new clubhouse including a full-size banquet room, commercial kitchen, members lounge, and wrap around outdoor patio overlooking the picturesque course.
For regular updates regarding the Dufferin Park Redevelopment project please visit brantford.ca/DufferinPark, and follow us on Facebook and Twitter.
Subscribe to News Alerts | City of Brantford Website | Privacy Policy
© City of Brantford, 58 Dalhousie Street, Brantford.
Subscribe to this Page