Healthy Kids Passport to Health returns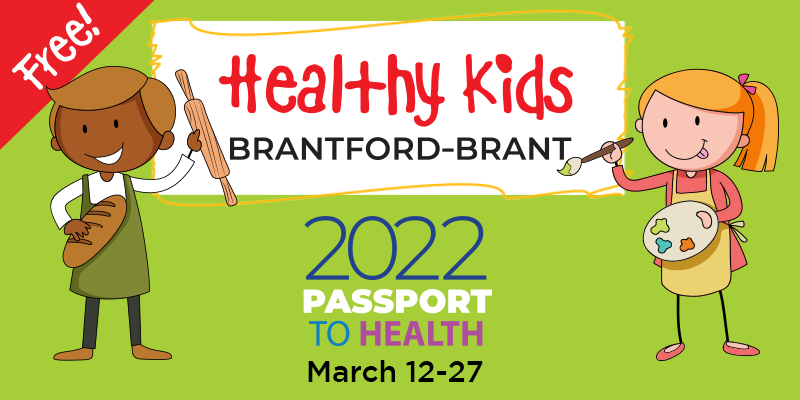 BRANTFORD, ON – The City of Brantford and the County of Brant are pleased to announce the return of the Healthy Kids Passport to Health from Saturday, March 12 to Sunday, March 27, 2022.
Over 60 free activities for children ages 0 to 14 will be offered by over 25 local organizations and businesses in Brantford and the County of Brant. Activities include pottery creation, kids' yoga, outdoor story walks, cooking classes and coding. Kids can participate in as many activities as they want, but space may be limited and pre-registration is required. To discover the full list of activities and registration details, visit Brantford.ca/HealthyKids.
Prizes can be won by participants who submit photos of themselves participating in Passport activities. The grand prize is a $400 City of Brantford Recreation Gift Certificate that can be used to participate in swim lessons, registered or drop-in programs, day camps and more. Participants can also win one of nine additional $100 gift cards from activity providers.
The photo contest and the Passport launch on Saturday, March 12 and close on Sunday, March 27. Winners will randomly be drawn on Thursday, March 31. For details on how to enter the photo contest, including rules, visit Brantford.ca/HealthyKids.
Quotes
"As an active and proud grandfather, I know how important the Healthy Kids Passport to Health program is to our community. I am very excited that we are able to offer a variety of fun and engaging activities that promote both the physical and mental well-being of children in our community."
- Brantford Mayor Kevin Davis, Healthy Kids Community Champion.
"I am so pleased the Healthy Kids passport is back! It is time to get moving, playing and exploring. I challenge the kids to try something fun and new. With over 100 free activities, there is undoubtedly something for everyone."
- County of Brant Mayor David Bailey.
About Healthy Kids Brantford-Brant
The popular Healthy Kids programs have been implemented across our communities since 2015 encouraging physical activity, healthy eating and wellness for children. The Healthy Kids project team works with over 200 community partner agencies and businesses to offer and help implement free programming for kids in our communities.
- 30 -
Media Contact:
Kelly Page | Communications Specialist, Communications and Community Engagement
City of Brantford | 519-759-4150 ext. 5779 | kpage@brantford.ca
Subscribe to this Page