TH&B Bridge temporarily closed today to investigate homophobic vandalism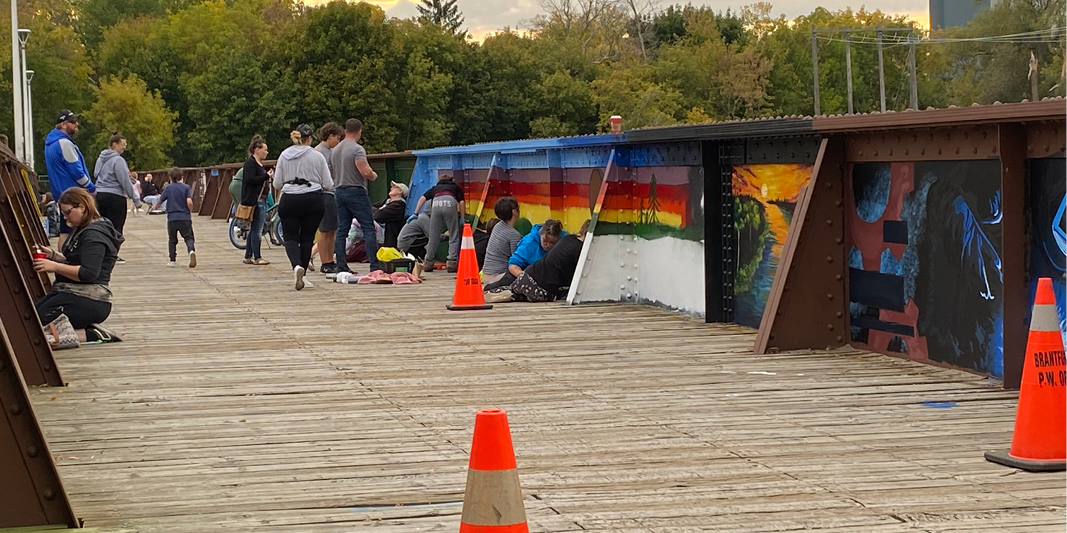 BRANTFORD, ON – The TH&B Crossing Bridge is a well utilized pedestrian crossing over the Grand River and an important fixture within the city's landscape. Last month, the City was proud to announce that over half of the interior panels of the TH&B Crossing Bridge had been painted by community members as part of the first phase of the TH&B Crossing Bridge Public Art Project. Participants included school groups, local businesses, community organizations and individuals who brought their own designs and capabilities to create a beautiful piece of public art for the entire community to enjoy.
This morning, Brantford City staff discovered that over the weekend, the art project had been significantly vandalized with homophobic vandalism targeting the 2SLGBTQ+ community. Brantford police are investigating. The City of Brantford has absolutely no tolerance for vandalism of any kind, most especially of this nature, where members of our community are targeted, and will work to support BPS' investigation to help find those responsible. If you have any information that would assist BPS in their investigation, please call 519-756-7050. Anonymous information can also be provided to Brant-Brantford Crime Stoppers at 519-750-8477 or 1-800-222-8477. Alternatively, a web tip may be submitted at: https://www.crimestoppersbb.com/submit-a-tip/.
"On behalf of the City, I want to express how deeply disheartened and disappointed we are by the hateful language painted across this beloved community art project," said Brantford Mayor Kevin Davis. As we strive to make Brantford a more inclusive city, these actions only serve to strengthen our resolve to support 2SLGBTQ+ members of our community and continue to embrace and celebrate diversity."
Recognizing that incidents of this nature can be traumatic, we encourage any community members impacted to reach out to local support services. For more information, please visit https://grandriverchc.ca/en/community-programs-and-outreach/lgbtq2s.aspx.
The TH&B Crossing Bridge was temporarily closed upon discovery of the vandalism and will reopen today at 2:30 p.m. Our sincere thanks to our amazing Parks Services staff who worked diligently over the past six hours to clear the hateful language from the vandalized panels on the bridge, while ensuring the artwork underneath remained undamaged.
The TH&B Public Art Project was unanimously endorsed by City Council and the Cultural Advisory Committee to help deter vandalism and foster a sense of pride in this important landmark.
-30-
Media Contact:

Maria Visocchi Director, Communications, Community Engagement and Customer Service
City of Brantford | Office: 519.759.4150 Ext. 5754 | mvisocchi@brantford.ca
View more news
Search the City Newsroom
Subscribe to News Alerts | City Website| Privacy Policy
© City of Brantford, 58 Dalhousie St. Brantford, ON
Subscribe to this Page